Welcome to day four of 12 Days of Christmas!
What's that you say? You've been out all day Christmas shopping, and then you got stuck in that horrible snow storm and now you're just so glad to be inside with your feet up by the fire (and a glass of wine, natch)?
But you need something to nibble on while you huddle near that fire, a nice light supper to tide you over until morning – when the rush begins again!
Garlicky white bean dip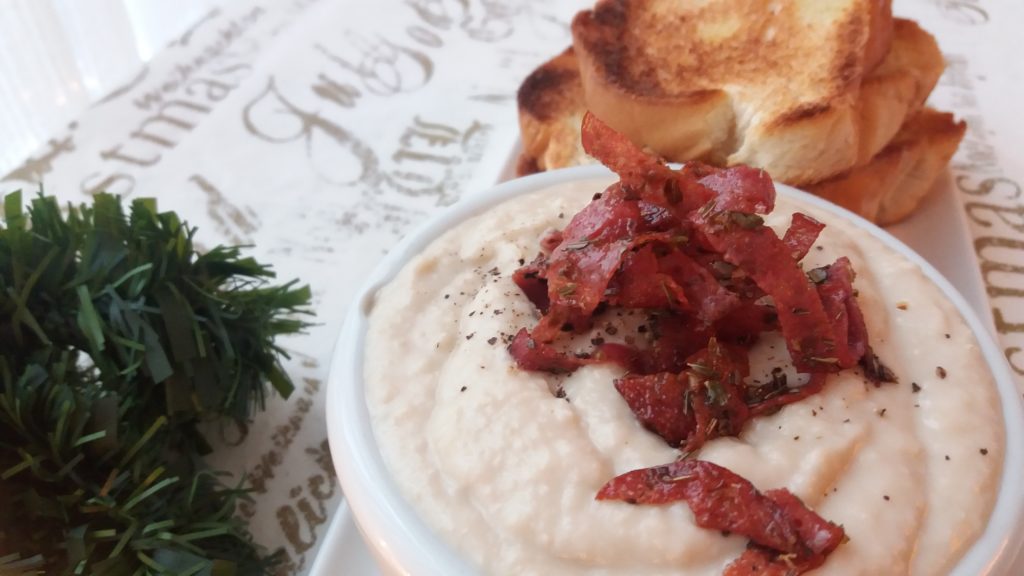 Aside from the roasted garlic, which I recommend you pop into the oven while you're cooking or roasting something else (save time while you can and all that), this tasty, fresh dip has only a few ingredients, and is easy to whip up, but has a lovely, layered flavour.
Serve on toasted sour dough for a light supper or lunch, add a side salad, or not, or even serve as a dip with crackers and cruditee (that's fancy talk for cut up vegetables–remember those? So scarce during the holiday season but so welcomed). I think this'd also be really nice as a shmear on a sandwich. The options are endless!
My favourite part is crispy salami, splashed with red wine vinegar and oregano that you can lay on top. Any excuse for cured meats!
Enjoy! I think you're really going to like this one. And please check back here tomorrow for day five of 12 Days of Christmas!
Mel xo

12 Days of Christmas: Garlicky White Bean Dip
Recipe inspired by Australian Gourmet Traveller magazine - aka the holy grail.
Ingredients
1-3 heads of garlic, roasted
1 can cannellini beans
75 ml olive oil
½ cup chicken stock
juice of 1-2 lemons, to taste
Pepperoni/salami of your choice for topping
2 tbsp red wine vinegar
1 tsp oregano
To serve: thick slices of char-grilled sourdough
Instructions
Roast garlic on an oven tray until very tender (40-45 minutes). When cool enough to handle, squeeze cloves from skins into a bowl (discard skins).
Reserve ½ cup of beans to serve and process the rest with garlic, lemon juice and 50ml extra-virgin olive oil in a food processor until smooth, season generously to taste. Thin slightly with a little chicken stock if too thick.
Heat remaining olive oil in a frying pan over medium-high heat, add pepperoni and stir occasionally, until it starts to crisp at the edges (2-3 minutes). Remove pan from heat, add oregano and vinegar (be careful, hot oil will spit), stir to combine and season to taste.