When I hear the word "pie" I immediately think of apple, or blueberry, or strawberry rhubarb. But I am on the other side of the world now, and mention "pie" around here and they are definitely not talking about fruit.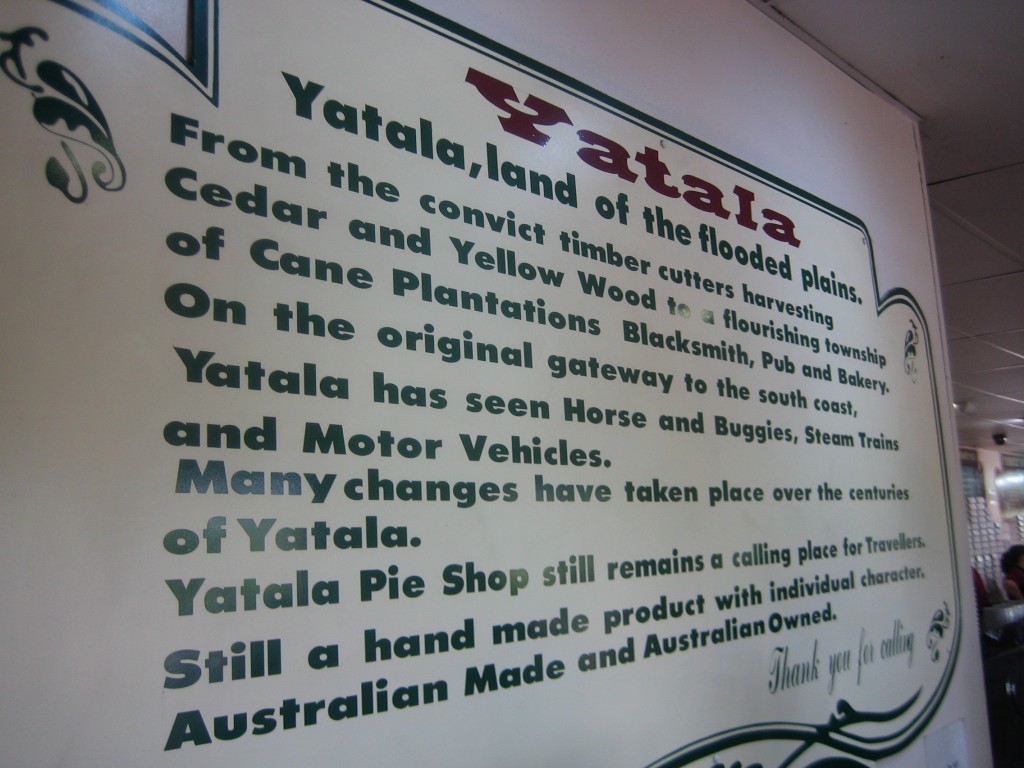 They're talking about steak and mushroom, beef and bacon, curry steak, and you can find them pretty much everywhere, from breakfast cafes to the local 7-11 or milk bar (sort of like our corner stores or convenience stores in Canada).
I'm not sure how I haven't tried one before, this being my 4th visit Down Under. But I think it has something to do with the fear of unknown meat in a plastic wrapper, sitting in a convenience store waiting to be heated up. I wouldn't eat that in Toronto, and I sure as hell won't do it here.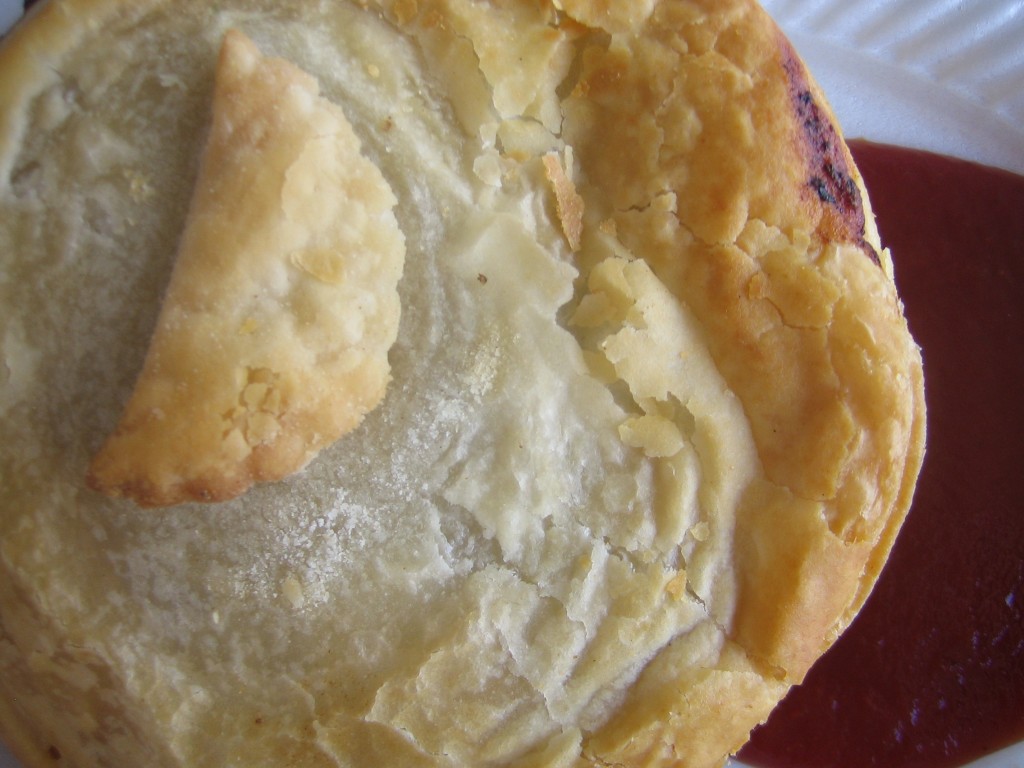 So I stayed with the familiar, and quickly fell in love with Aussie sausage rolls. Aussies are big on their savoury breakfasts, and if I'm stuck for my morning meal and feel like a croissant or danish, I'm often out of luck. But they'll always have sausage rolls, and believe me when I tell you, having one with a creamy cappuccino in the morning, well, is the best start to any day here in beautiful Australia.
I should have realized that my success with sausage rolls would bode well for my meat pie success, but alas, it wasn't in the cards until now. And how lucky could I be, to have my first Aussie meat pie experience at a famous Aussie pie store, Yatala Pies.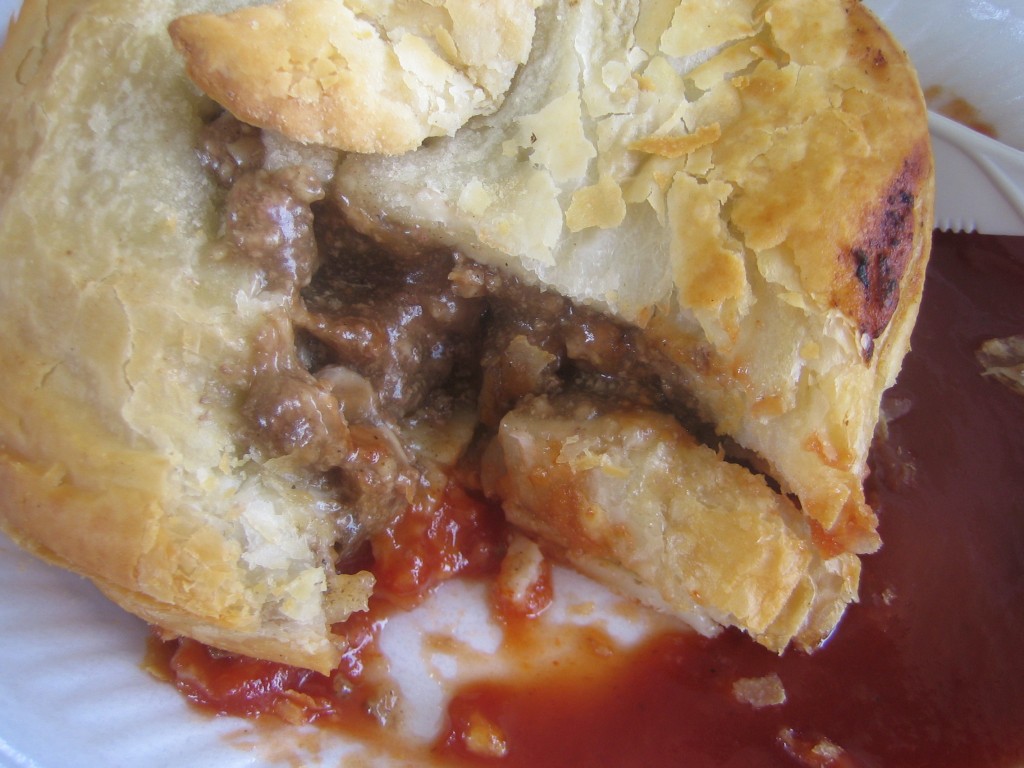 Yatala (pronounced Yat-Lah) Pies is hidden innocently behind a row of bushes on the side of the M1 Pacific Motorway, a highway that goes all the way up and down the coast of Queensland. We were enjoying a beautiful day at the Gold Coast, when on the way back we realized we hadn't had any lunch (Queensland beaches will do that to you). We had already merged onto the highway when our friend Violet suggested we stop for a famous Yatala pie.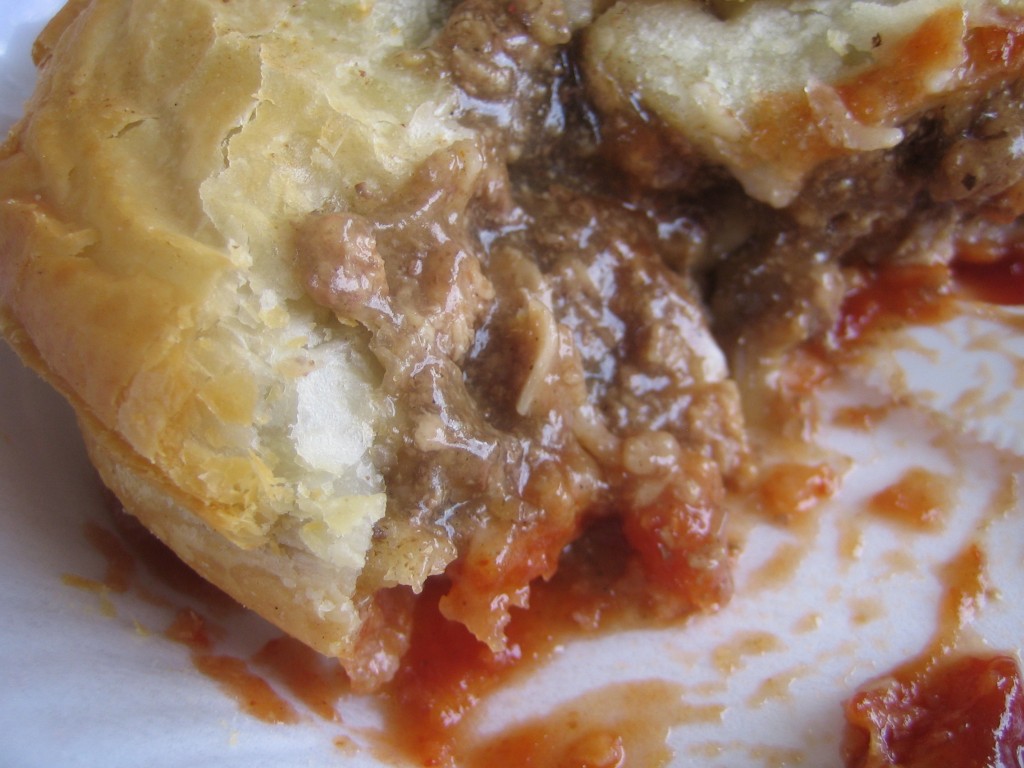 Stocked to the brim with both pies and patrons, Yatala Pies was an overwhelming experience. What kind to have? Individual or family size? Take away or eat in? I made a snap (and safe) decision with the steak and mushroom, and got a sausage roll for the road (c'mon, I couldn't visit a legendary pie shop without tasting their sausage rolls!)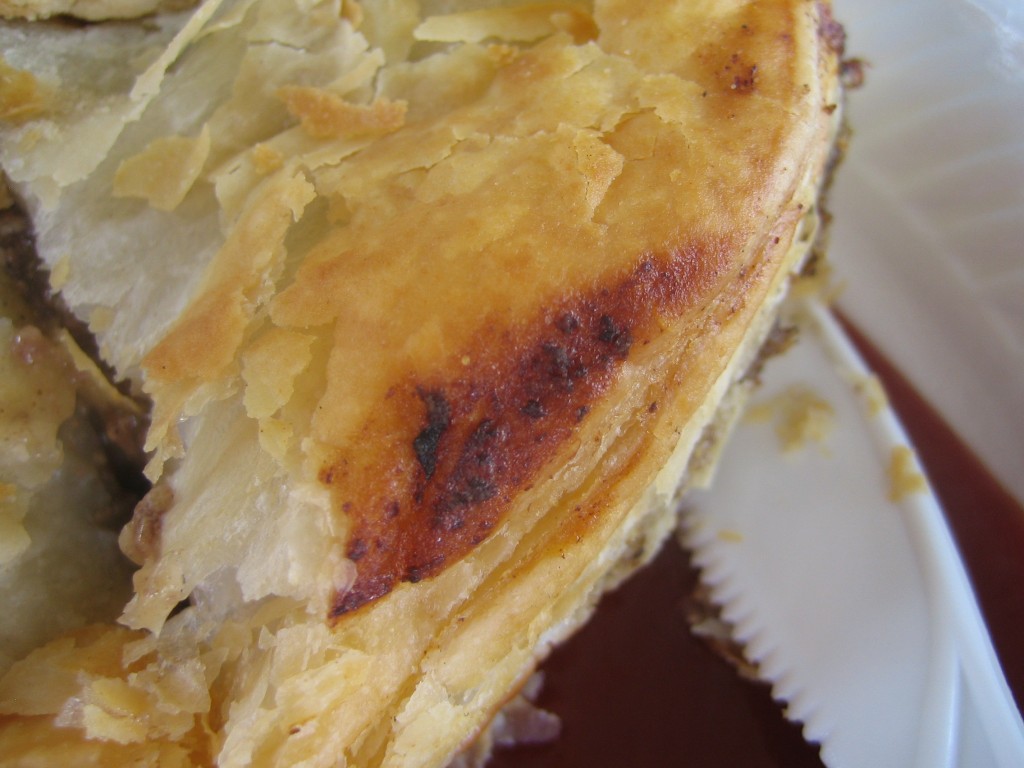 After grabbing some tomato sauce for dipping (that's ketchup) we found a seat outside under the covered porch for a feed. What immediately struck me was how light, flaky and ungreasy (yeah, that's a word!) the pastry was, quickly silencing my inner fears. Inside, the meat was fresh, chunky and swimming in just enough gravy. It was the perfect pastry to meat to gravy ratio.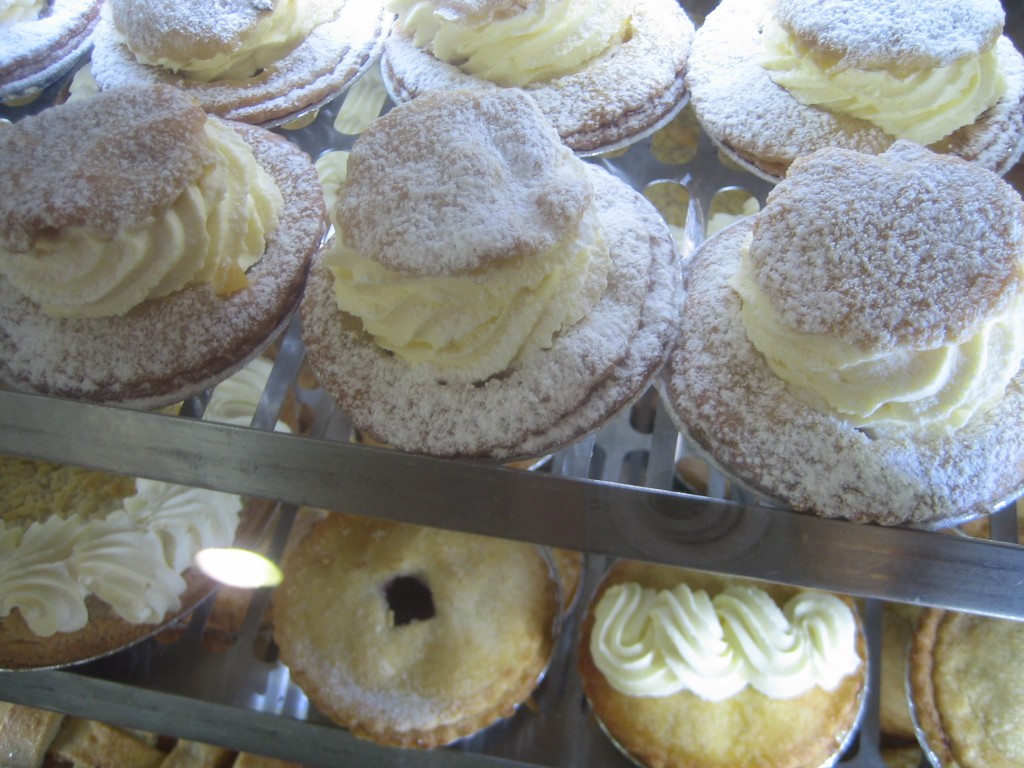 But the real kicker? They sell sweet pies too (thank god!) and lots of pretty desserts. We took home the caramel, custard apple and apple berry for dessert that night. Unreal!
This is what I love about both food and travel. It doesn't matter how well you know a place, or whether it's your very first visit, you can always find something to delight and surprise. I have probably driven past this pie shop 20 times and never knew anything about it. But it was worth the wait.
Now, do you think I can call myself an honourary Australian?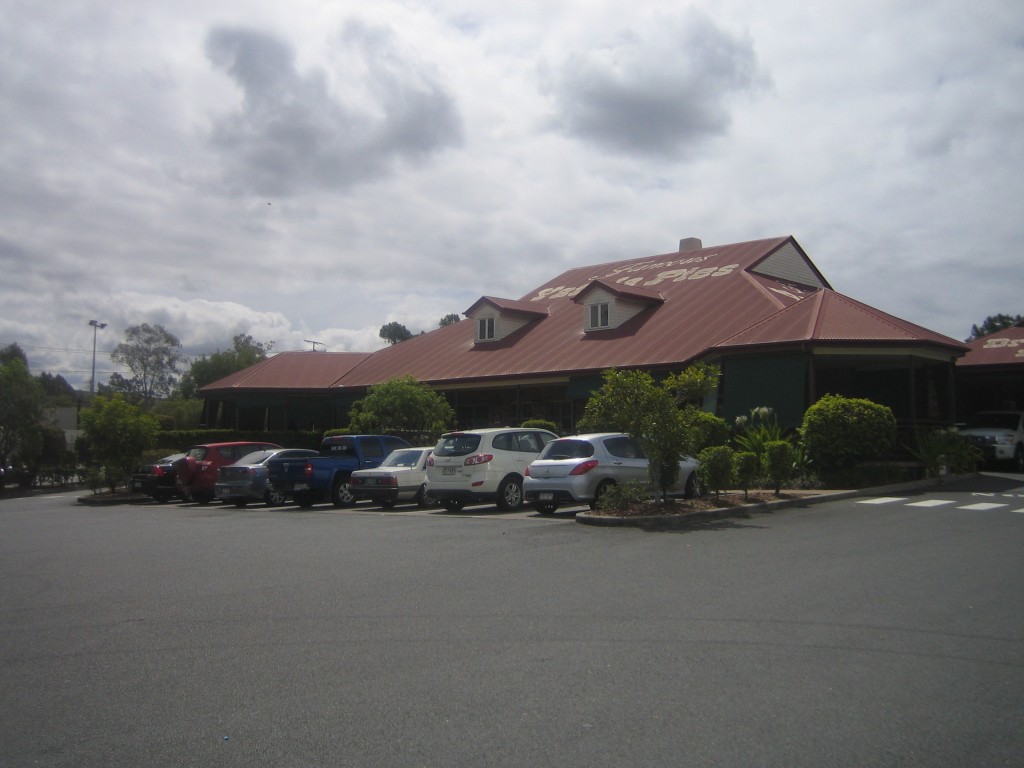 Yatala Pies
Pacific Motorway M1, Yatala QLD
Exit 38, Yatala North
+61 (07) 3287 2468