I'm so excited to be back! I really missed you guys, and, I missed writing about delicious food!
Welcome to my new blog! The blog survived the migration process and looks basically the same as it did before, in case you were confused about the "new" bit. I will probably continue to tinker with it, though, which is one of my favourite parts about having this blog. You'll also notice… there are now some ads running on the site. Let me know if you like, don't like, or don't care, and definitely let me know if any of the ad content makes you feel like you ate bad fish.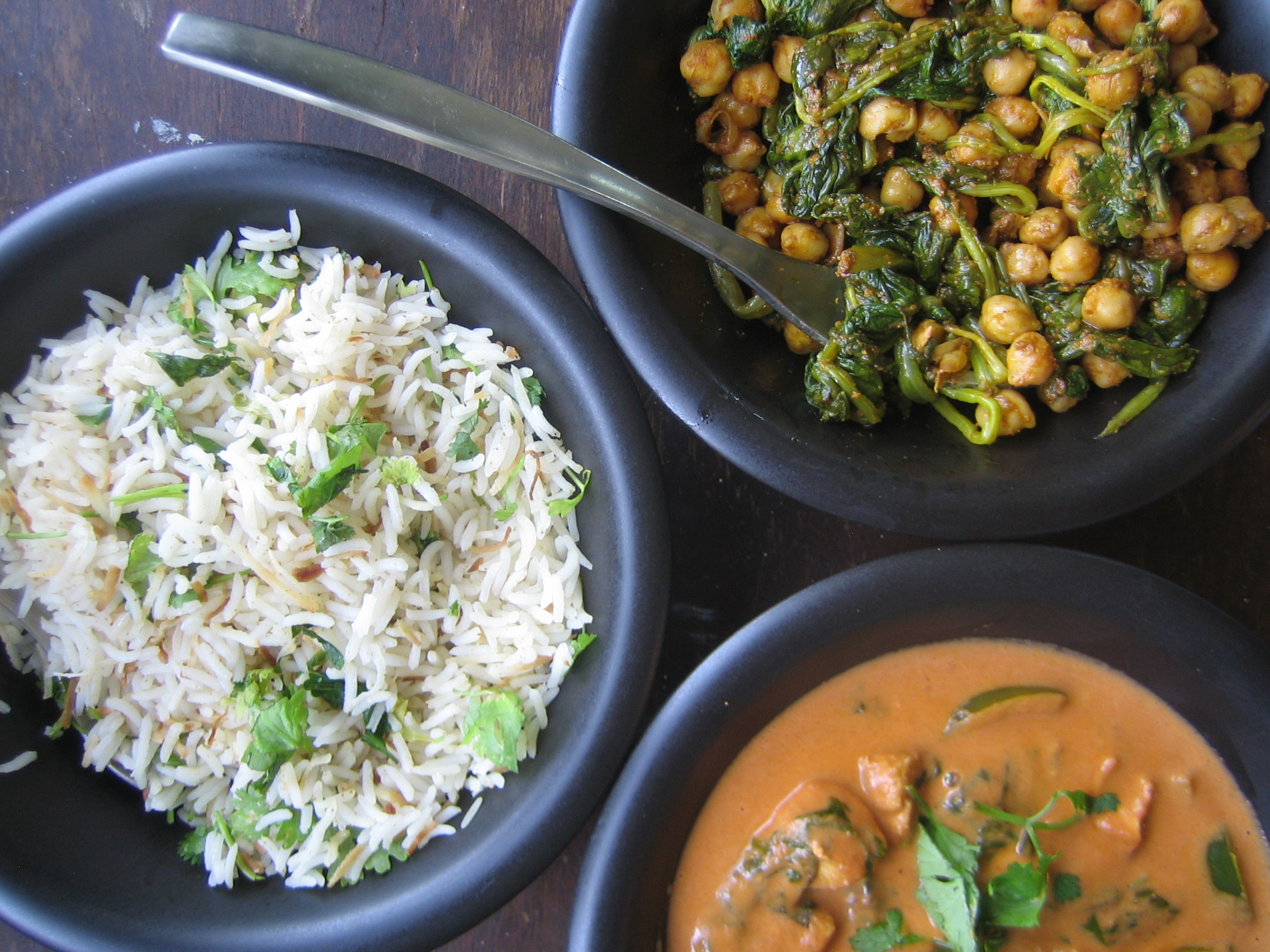 In honour of getting back into the blogging routine (ah, it felt good to have time off in August. Did you rest too?), I have spent the whole day in the kitchen creating an Indian-inspired feast! I say inspired because I am not sure how truly Indian this feast is, though when I think Indian food, these are the flavours that come to mind.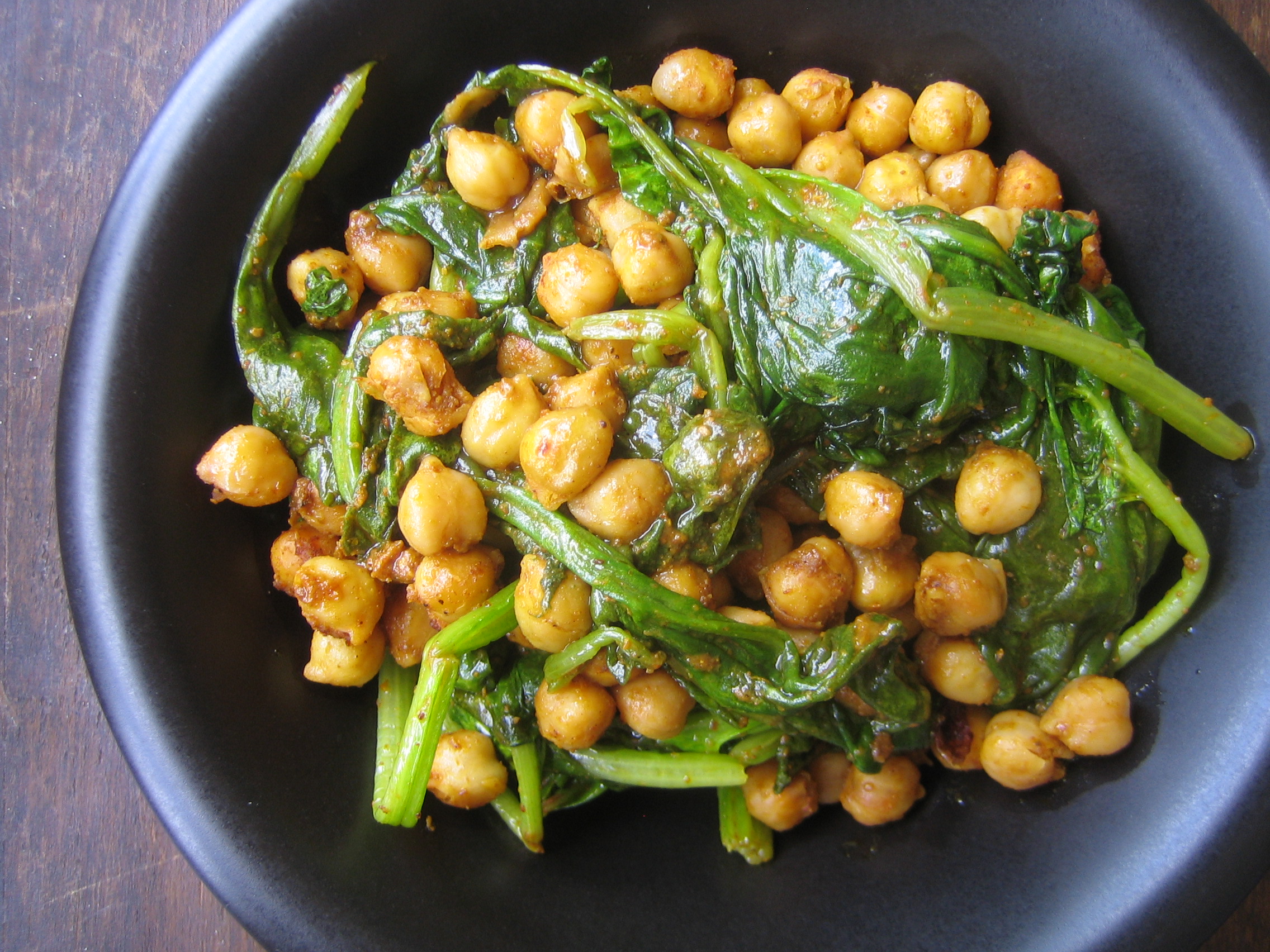 Cardamom, cumin, coriander, curry. These are flavours that I am still just getting familiar with. But boy, would I like to get to know them better.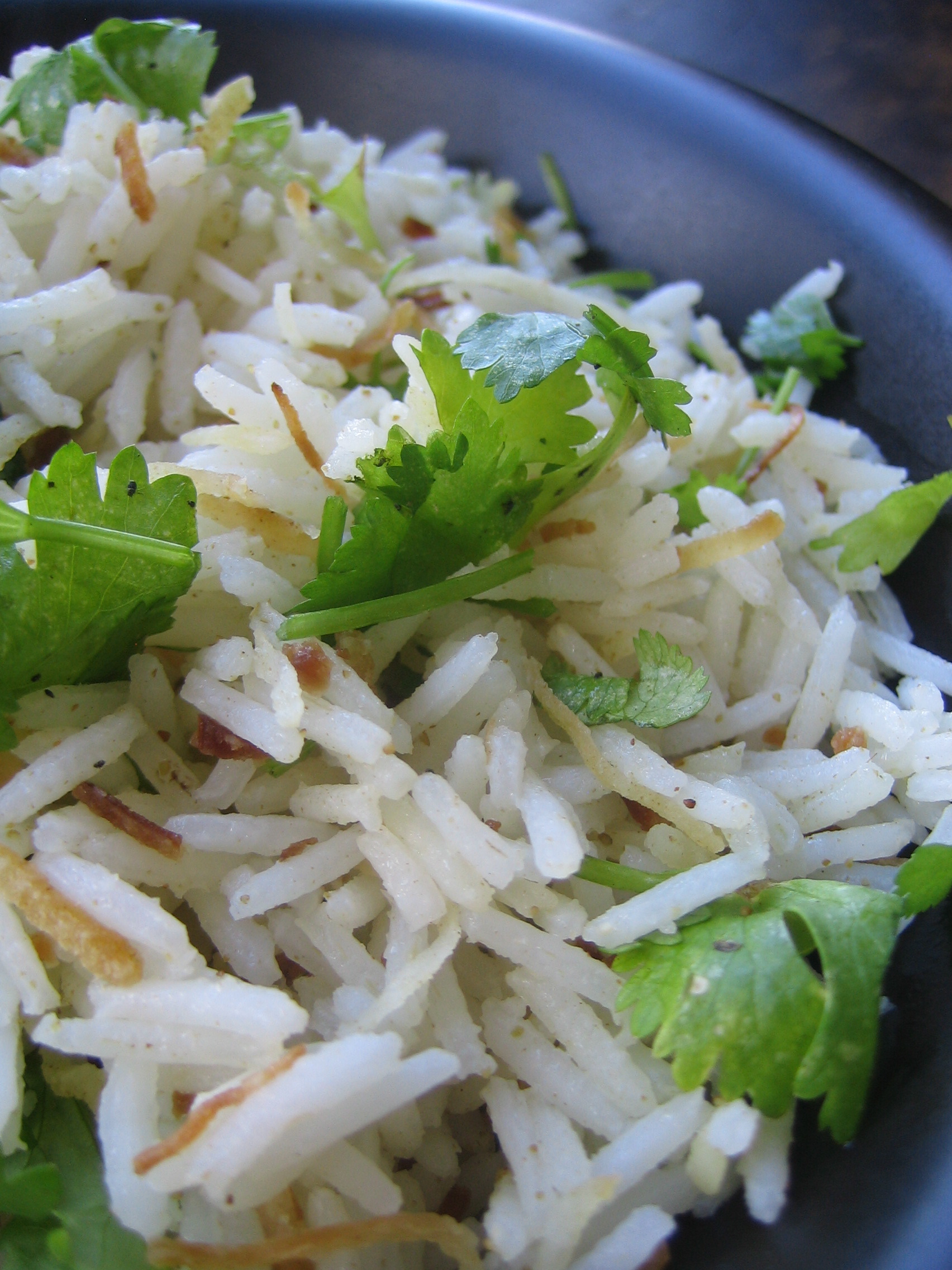 I came across this group of dishes in my overflowing box of recipes. (Except for the butter chicken. It's an old family fave and is not at all traditionally Indian but tastes so good I don't care. It has also already made an appearance on the blog, high praise indeed.) You know, the kind you rip out of a magazine and then never get around to trying? Yeah, those. But with the start of September, and this weekend's cooler weather, I wanted to get more organized. This time of year always gets me thinking about getting back into a routine and it's kinda nice after a crazy, no-rules summer.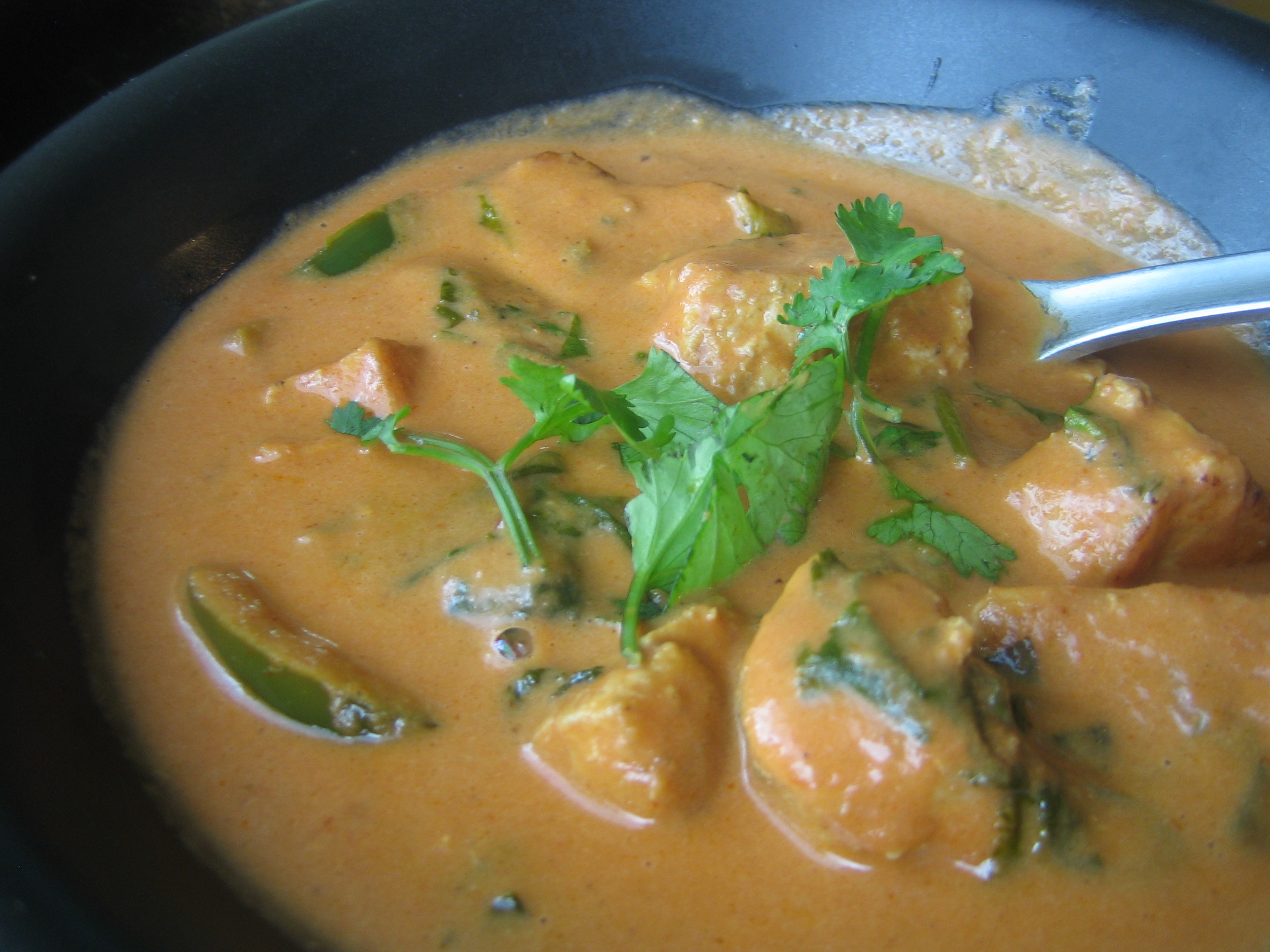 So I put on the butter chicken to simmer while I worked on the rice and chickpea dishes.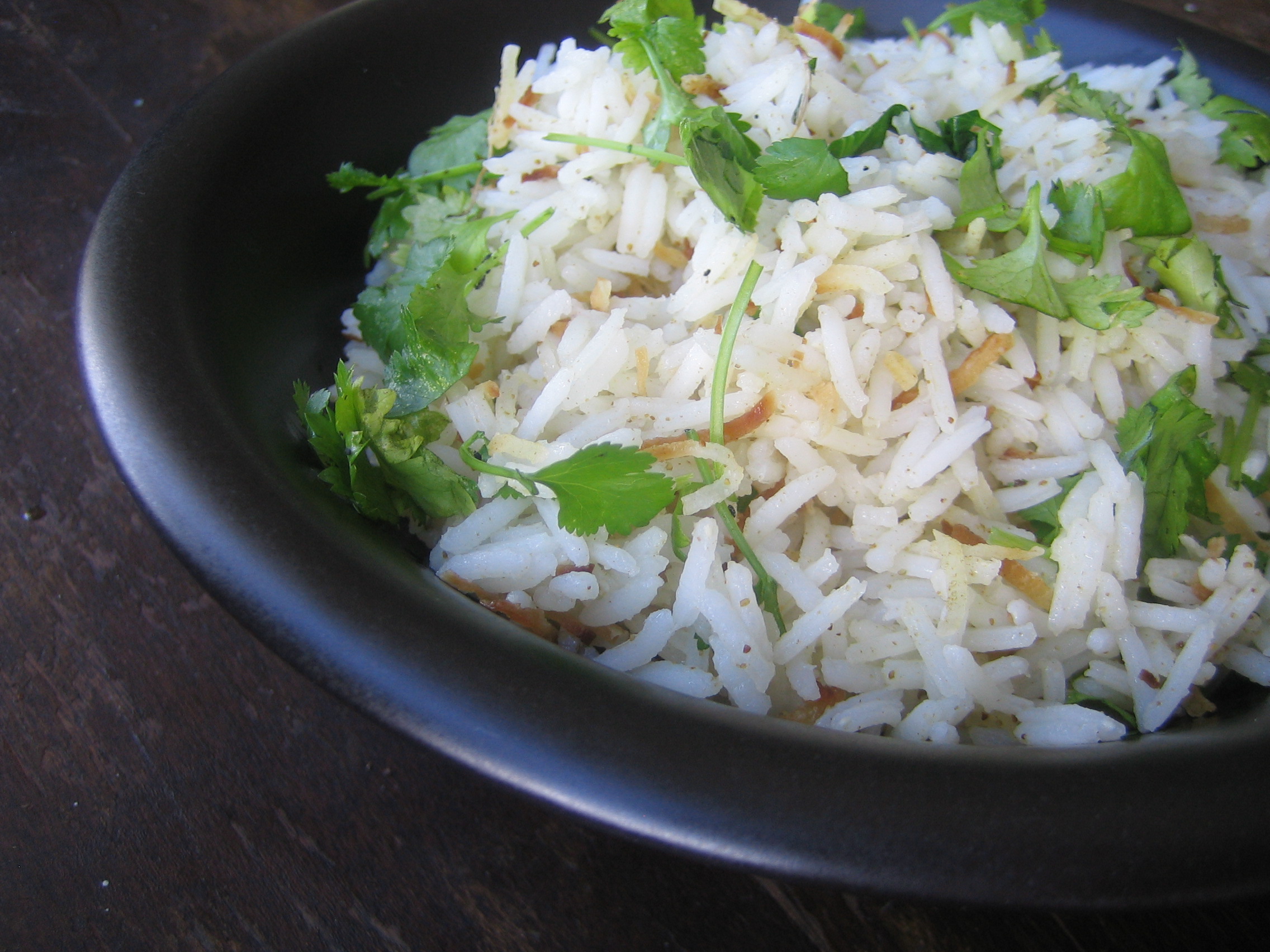 Other than toasting the coconut and cumin seeds for about 3 minutes (which can be done up to 12 hrs ahead) it was just a matter of making rice. BUT! The recipe says that cooking rice in a large pot of boiling water, like pasta, is the key to making it fluffy. I've never had a problem cooking rice before but I tried it and WOW! the rice tasted great and had a lovely texture, but I accidentally used unsweetened coconut, and it came out a bit bland. I'm convinced that extra bit of sweetness would have fixed it.
While the rice was cooking away, I prepped the chickpeas and greens for the oven.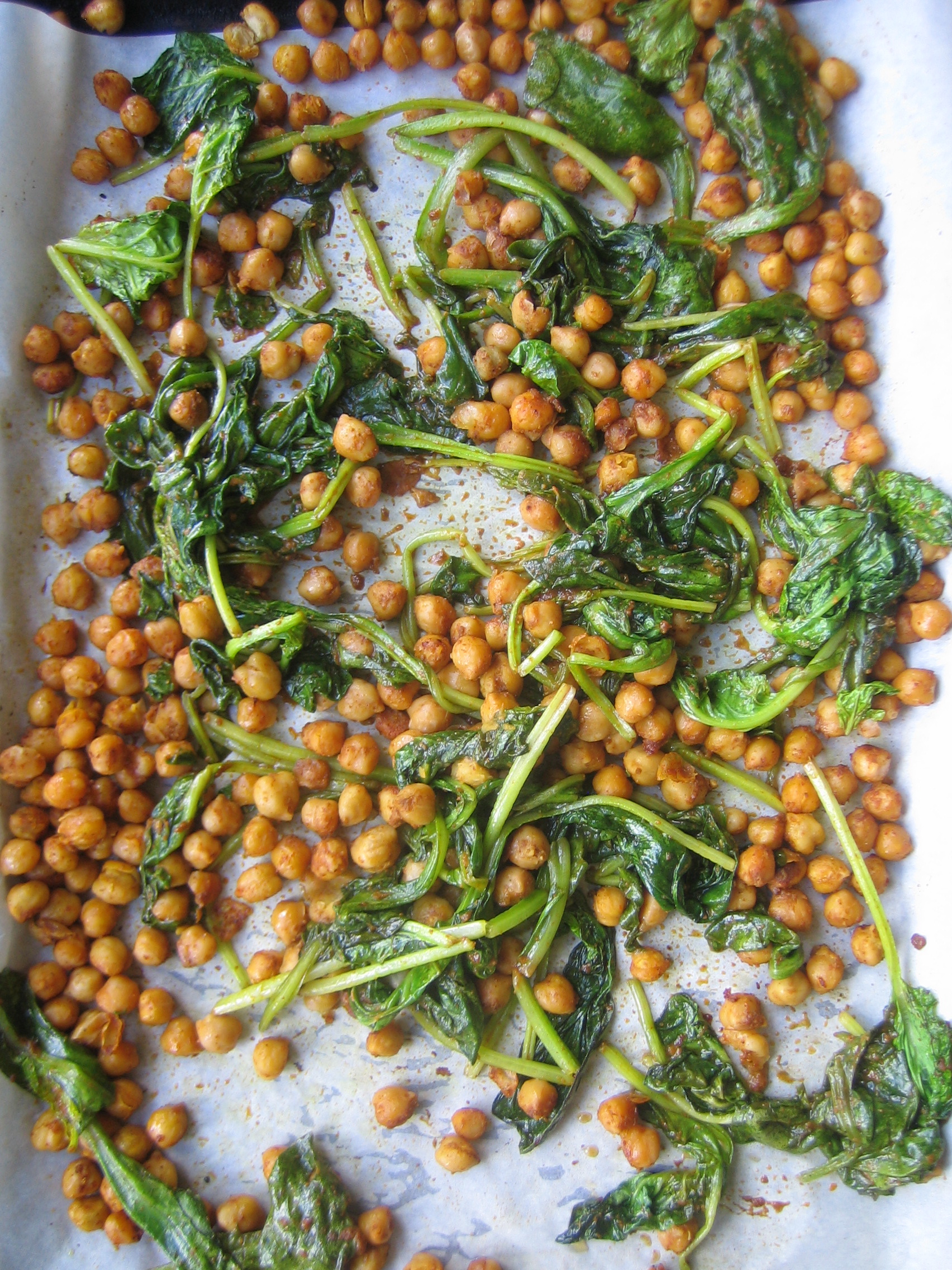 This is where the store-bought curry paste came in handy. Add to it a bit of oil and salt, and in go the chickpeas. They cooked in the oven for around 10 minutes (same time as the rice, awesome), and then I added the greens for about 3-5 minutes until wilted. The recipe calls for red Swiss chard as a nice punch of colour, but it tends to give me a tummy ache, so in went the spinach.
After that, pop a store-bought naan in the oven and voila! the Indian feast was complete.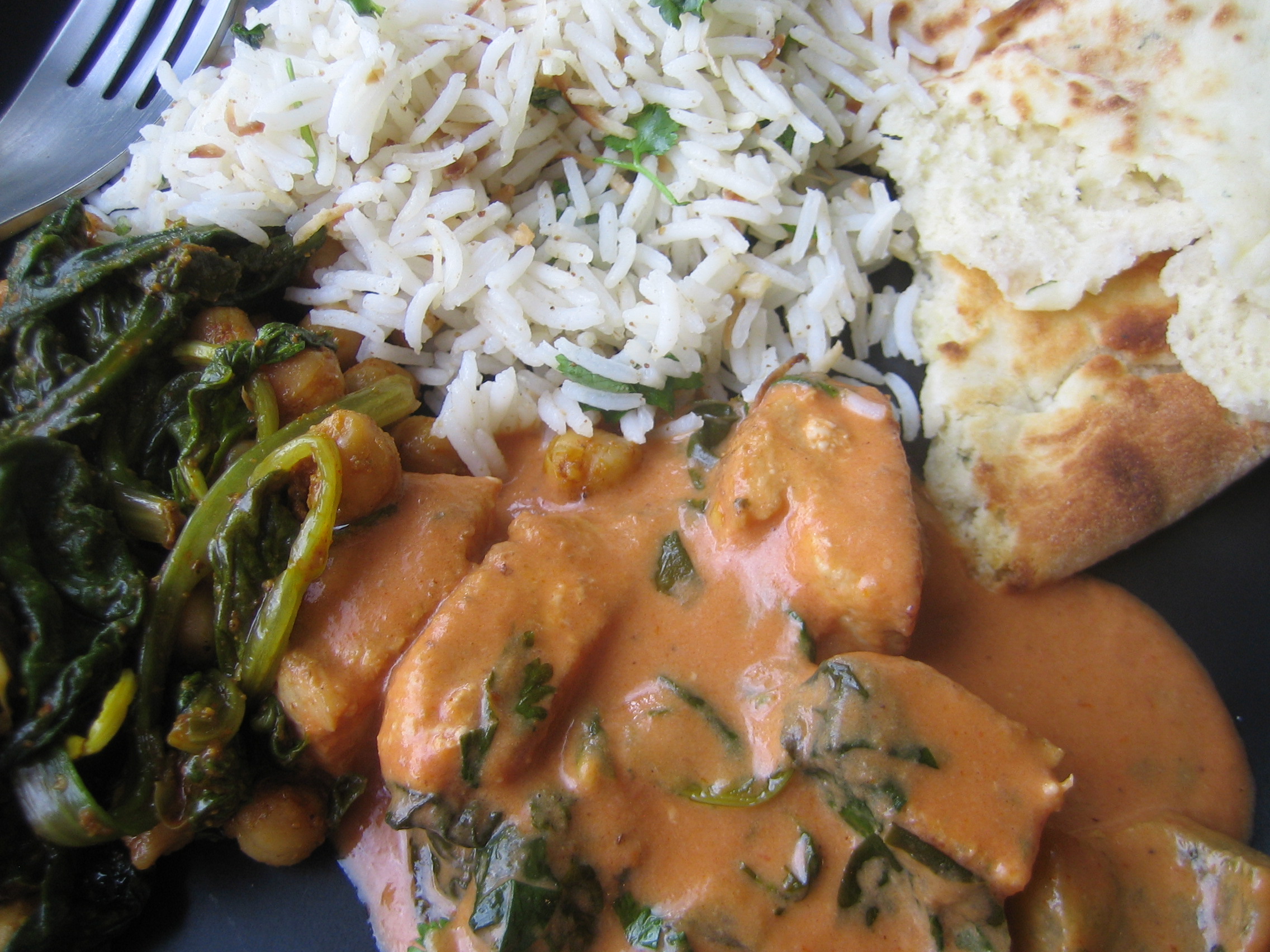 Well, not quite. Did you really think I'd forget about dessert?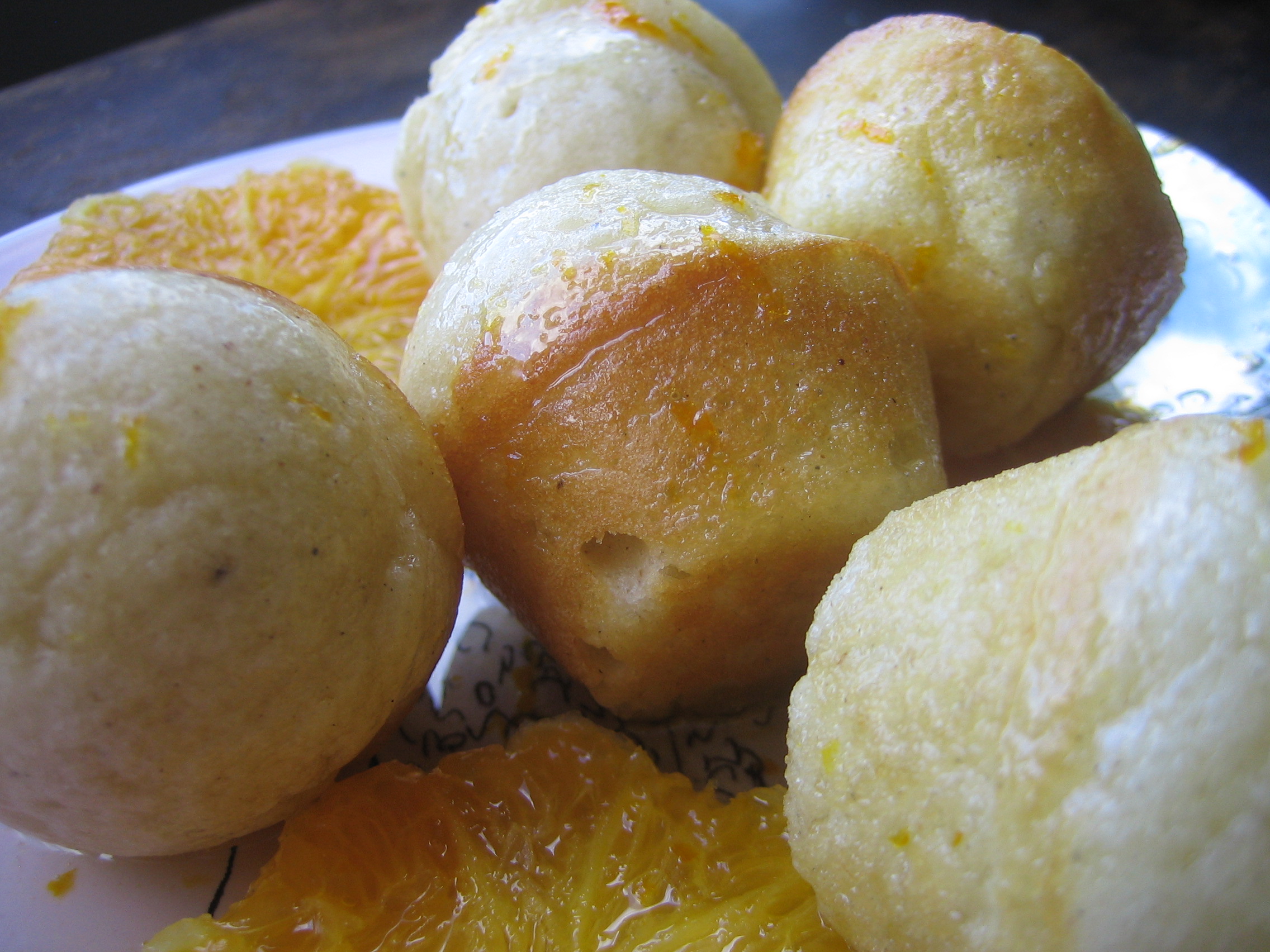 Cardamom donuts with orange syrup. That's right. You heard me. Oh god, are you ready?
They're baked. In mini muffin tins. For like 8 minutes. That's it! Scary really. These ones have a bit of nutmeg and cardamom, but take those spices away and you have a quick and easy basic donut recipe. Think Old Fashioned Plain, without the hard crusty exterior (sorry Tim Horton's).
These too can be made ahead of time (but watch them disappear before they get put into storage). And then when you're ready, whip up the orange syrup. The longer you leave the syrup on the better, so make the hot syrup, pour it over the donuts, let them cool as you periodically turn them to get evenly coated and leave overnight. In the morning (no, I don't recommend eating these for breakfast;) they are sticky good. And if you can't wait till morning, eat them slightly warm. The syrup soaks in and makes the donuts super moist without being wet (Ichh, I hate that!).
While I won't always have an entire afternoon free to create a feast, it sure did feel good to get back into the kitchen with real abandon, something I can't do during the summer months. I do hope we haven't seen the last of beach weather, but I can't lie–when it's cool enough to turn on the oven again, it lights fire inside me. The kitchen is one of my favourite places to be.
I hope you got to enjoy some of your very favourite things this weekend too. You did? Really? What were they? I'd love to hear all about it.
Rice, Chickpea and donut recipes sourced from Canadian House & Home. Butter Chicken recipe sourced from Chatelaine.

Indian Feast: Coconut Cilantro Rice; Roasted Chickpeas with Curried Greens; Cardamom Doughnuts in Orange Syrup
Rice: Remember to use sweetened coconut! Chickpeas: Salt to taste--depending on the curry paste you use, it may be too salty. Dessert: Just enjoy:)
Recipe type:
Entree, Main, Dessert
Serves:
Rice/Chickpeas 6/24 donuts
Ingredients
Rice:
2 tsp whole cumin seeds
½ cup sweetened shredded coconut
2 cups basmati rice
1 tbsp kosher salt
½ cup chopped fresh cilantro
2 tbsp melted butter
Chickpeas:
2 tbsp olive oil
4 tbsp medium or hot curry paste, such as Patak's, divided
1-1/2 tsp kosher salt
2 540-mL cans chickpeas, rinsed and drained
6 cups (packed) thinly sliced red Swiss chard
Doughnuts:
1-1/4 cups all-purpose flour
1-1/4 tsp baking powder
½ tsp table salt
½ tsp ground cardamom
¼ tsp nutmeg
Black pepper
1 egg
⅓ cup sugar
½ cup milk
¼ cup melted butter
Syrup:
1-1/2 cups sugar
¾ cup water
2 seedless oranges
Instructions
Rice:
Heat a medium frying pan over medium heat. Add cumin seeds and toast 3 minutes, or until fragrant. Add coconut and toast, stirring frequently, until golden, about 3 minutes.
Remove from heat and reserve (up to 12 hrs.)
Bring a large pot of water to a rolling boil. Meanwhile, rinse rice under cold running water and drain. Add rice and salt to boiling water and boil gently for 10 minutes, or until tender.
Drain well and transfer to a large bowl. Gently stir in coconut mixture, cilantro and butter.
Chickpeas:
Preheat oven to 400F. In a large bowl, combine 2 teaspoons oil with 2 tablespoons curry paste and half of the salt, and mix well. Add chickpeas and toss to coat. Spread chickpeas in a single layer on a large, rimmed baking sheet (or two). Bake 10 to 12 minutes, stirring halfway.
Meanwhile, combine remaining oil, curry paste and salt in the previously used bowl. Add greens and toss well to coat. Add to chickpeas, stir, and bake another 3 to 5 minutes, or until greens are just wilted.
Cardamom Doughnuts:
Preheat oven to 350F. Grease a 24-cup mini muffin tin.
In a small bowl, whisk together flour, baking powder, salt, cardamom, nutmeg and couple of grindings of black pepper. Reserve.
In a medium bowl, whisk egg until foamy. Add sugar and whisk until well combined. Add dry ingredients alternately with milk to the egg and sugar mixture, and stir until well combined. Stir in melted butter. Spoon batter into prepared tin and bake about 8 minutes, or until firm to the touch. Cool on rack. Can be made 24 hrs in advance.
To make syrup, combine sugar with water in a small pot. Add the zest of one orange. Bring to a boil and simmer 3 minutes, or until thickened slightly.
Using a long skewer, poke several holes in each doughnut. Place doughnuts in a single layer in a large dish. Carefully pour the hot syrup over the doughnuts. Let cool to room temperature, turning over occasionally. This can be done up to 12 hrs in advance.
Slice the peel off and slice oranges into thin rounds. Serve doughnuts with orange slices and ice cream, if desired.