I may be a very long way from home, but lucky for me I have a very special family here in Oz. My best friend Natalie and her partner Scott, along with their three little kiddies, have taken me in and made me a part of their busy, non-stop-fun-times clan. And one of the best things about being part of a family is the chance to share in meals together.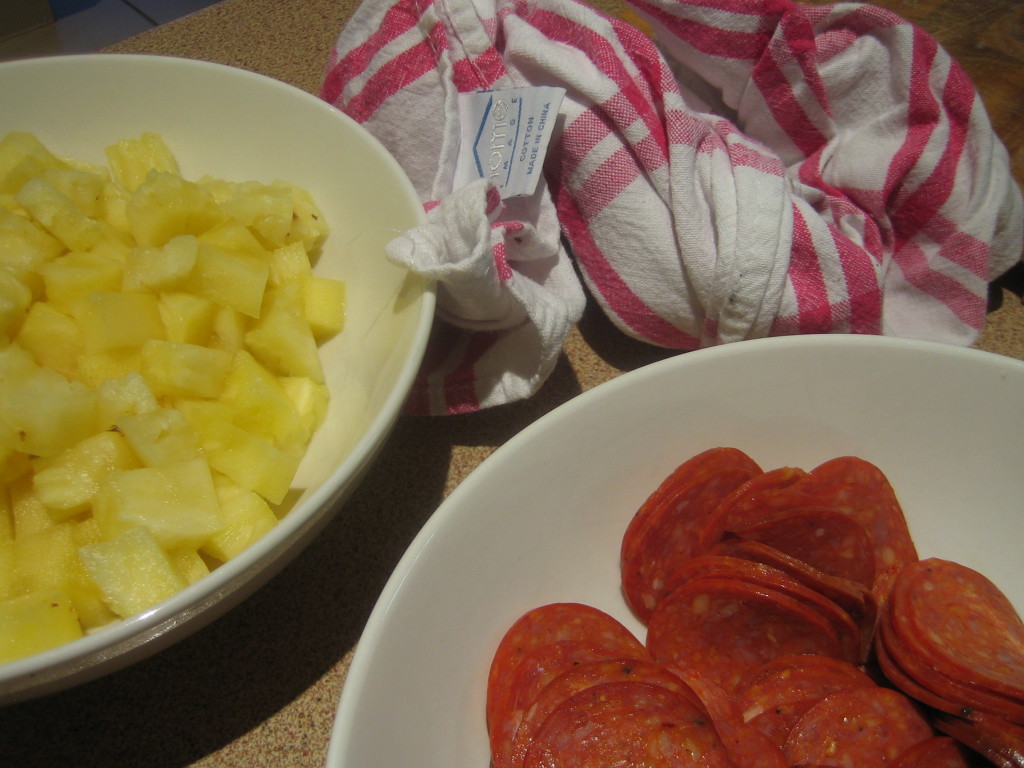 Discussing the menu, shopping for ingredients, and creating the meal together is such a fun bonding experience, and the kids love it.
Especially when pizza's on the menu.
Or so I thought. Everyone loves pizza, right? Wrong. Liam, Nat's 5 year old son, is very particular about what he eats and somehow (I can't believe it!) he doesn't like pizza. But in her effort to expand his palate, the new rule in the house is that you have to try at least one new food each day. You don't have to like it, but you have to give it a taste.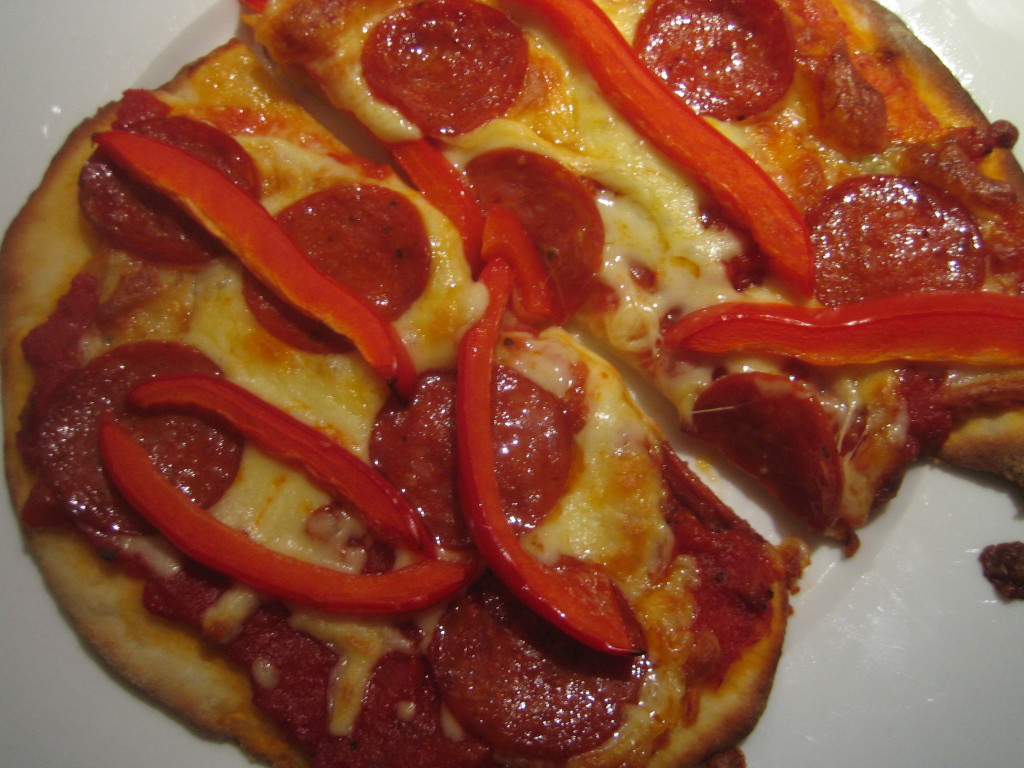 The real clincher? Getting him involved in making his own meal. With Scott outside setting up a table to roll out the dough, Liam was immediately intrigued and wanted in.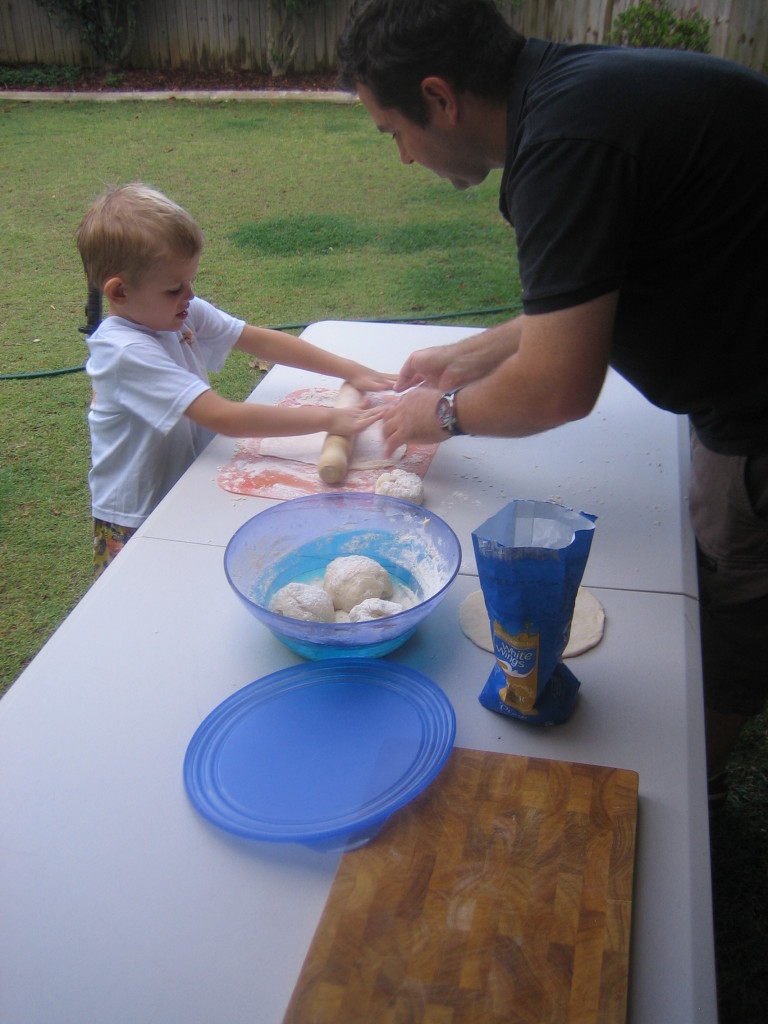 He learned to roll out the dough for his own pizza, and even got a dough-throwing demo from Scott, a former pizza maker himself. They were having so much fun, I think Liam forgot all about the fact that this was pizza, and that it'd end up on his plate before long.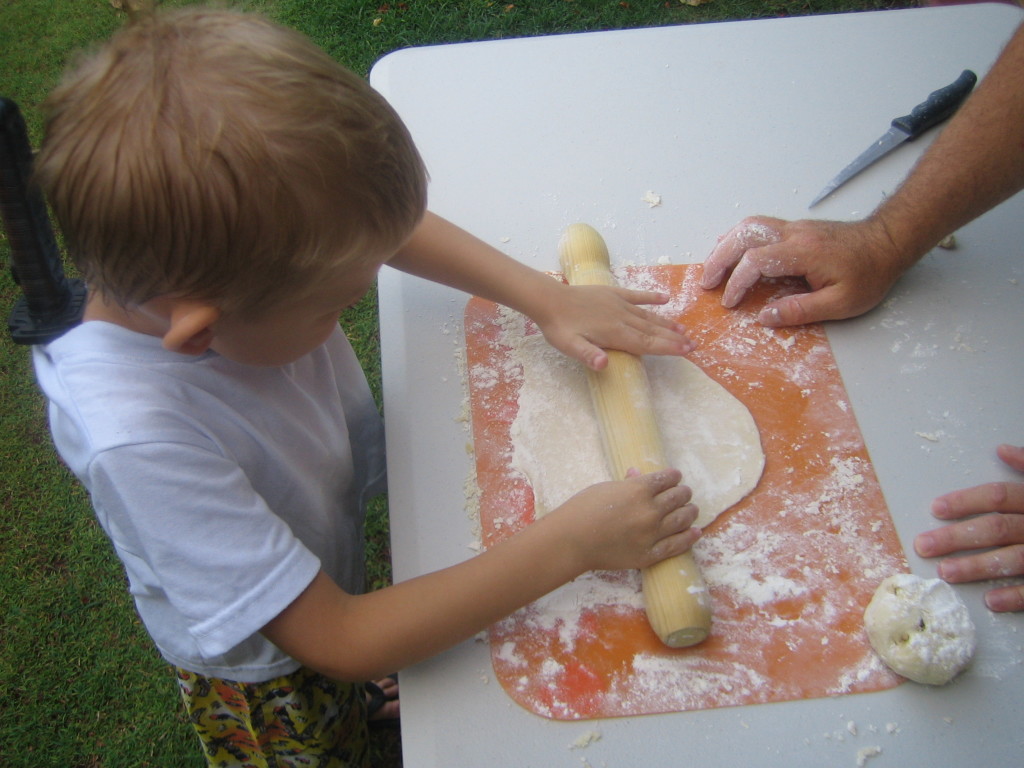 Once the dough was ready, it was back inside to add the toppings. As expected, Liam was guarded about what went on his pie. Chicken and just a bit of cheese, you know, to keep the whole thing together.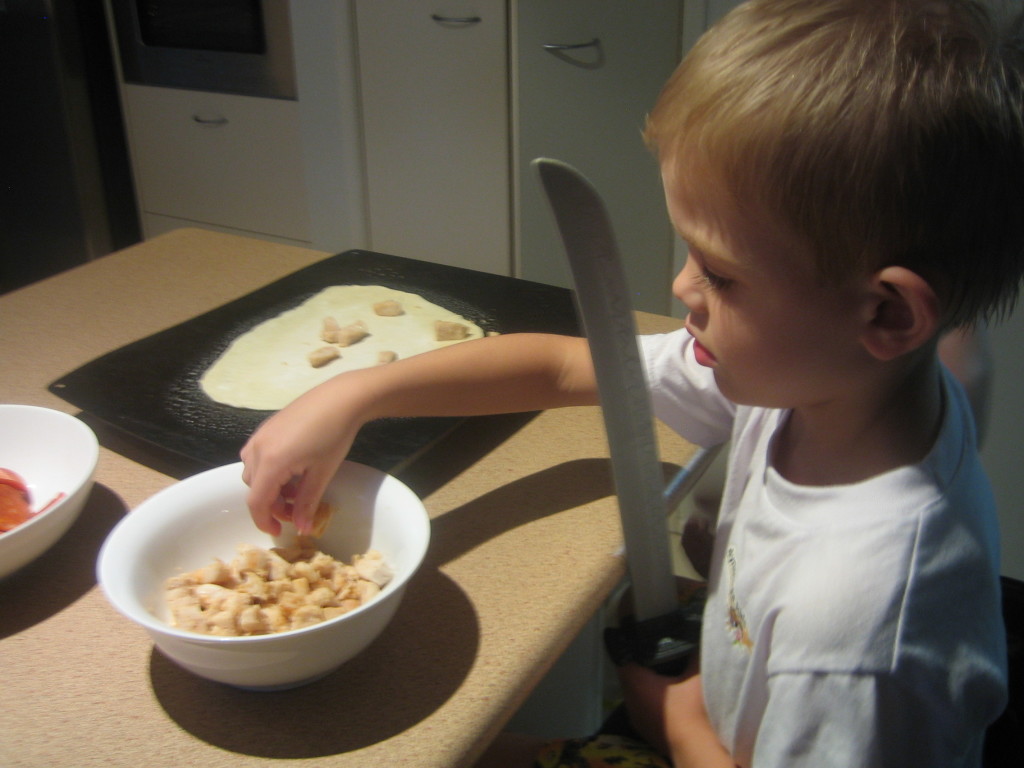 With two other young boys in the house, everyone got involved and soon a competition emerged: Who would have the best tasting and best looking pizza? With bowls of choice before us, our favourite toppings were added.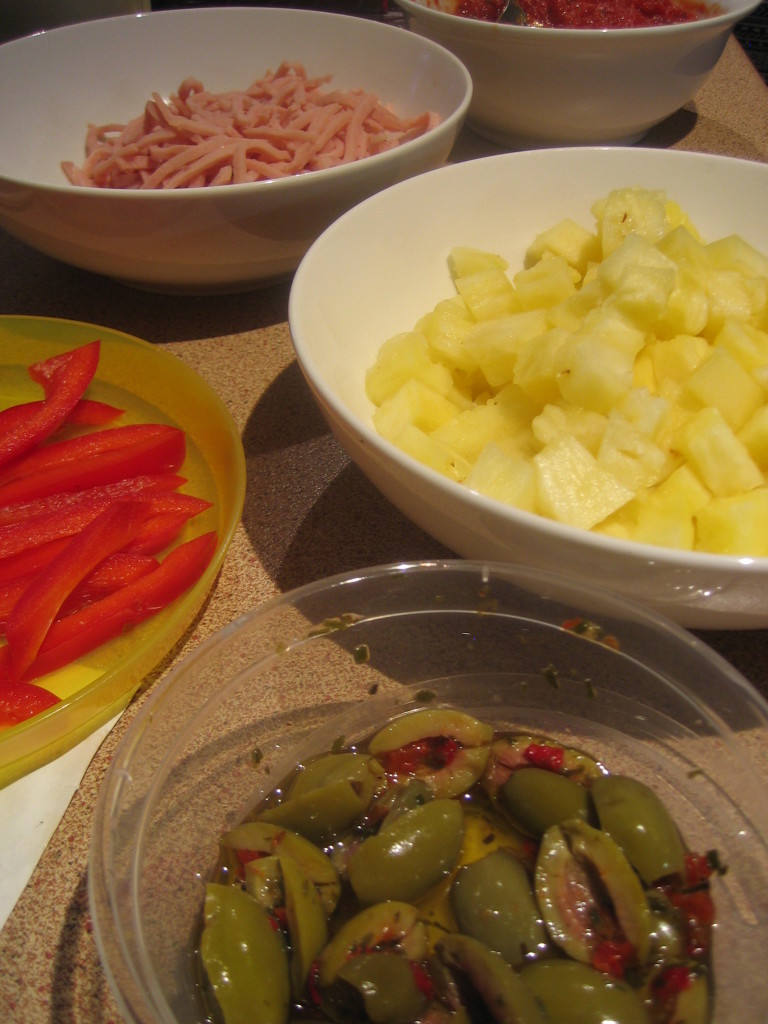 And then we waited. This is always the hardest part.
And the winner?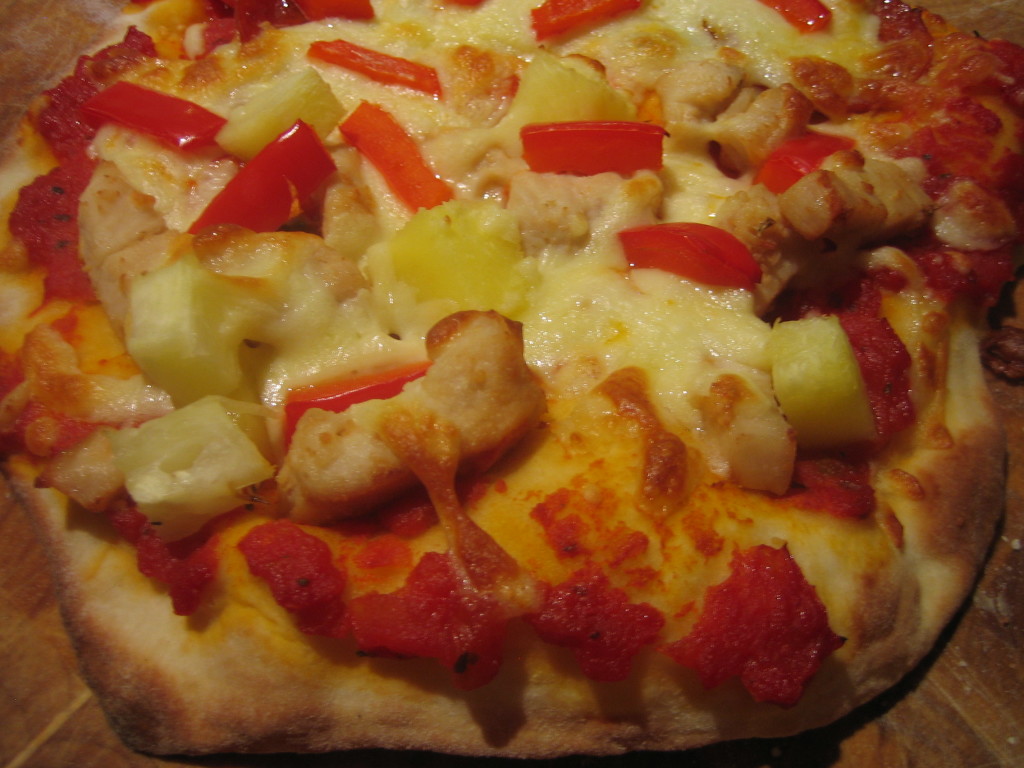 As competitive as I am, I have to say we all won. The pizza was some of the best I've ever had, all the kids were happy and full, and before the last slice was gone we were already planning our next family cooking night together.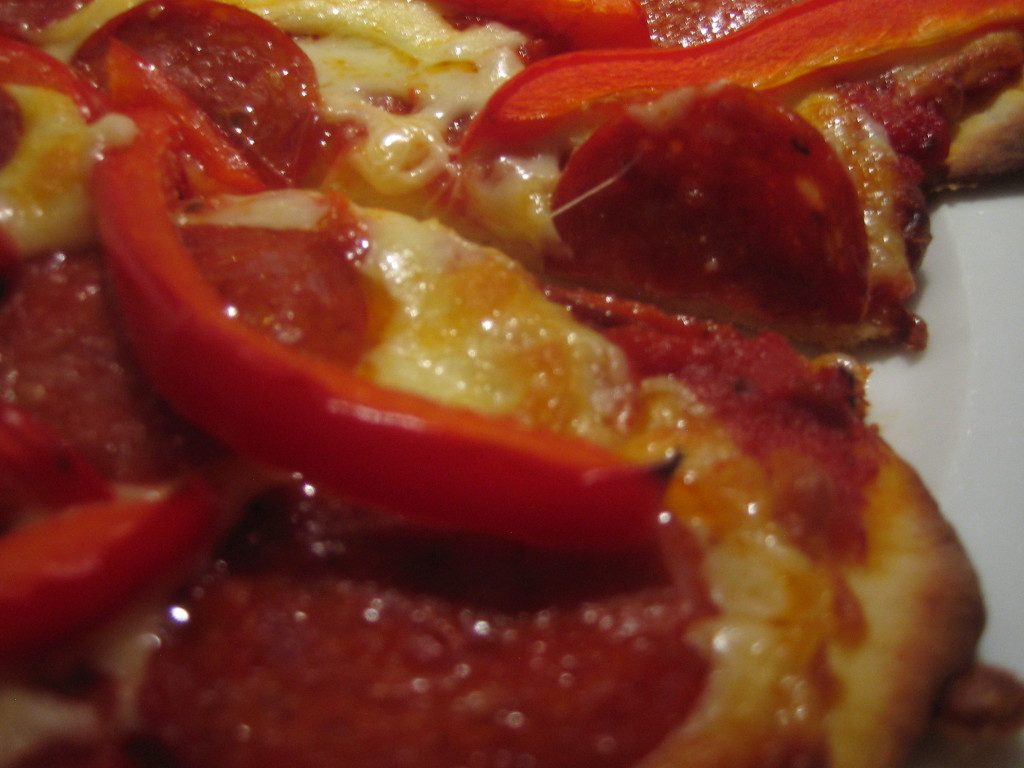 We bonded over food, the kiddies learned about preparing a meal and we demystified pizza for little Liam. He may not be the biggest fan of pizza yet, but I know for sure he'll be keen to try his hand at tossing the dough next time.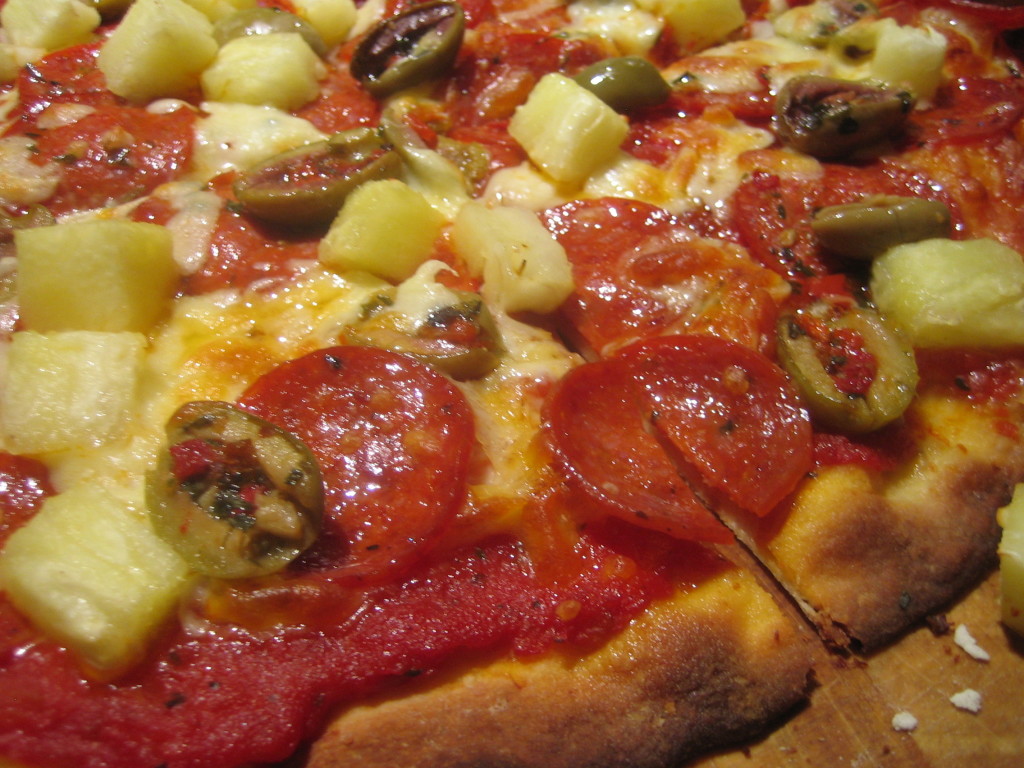 Good thing the pizza table is set up outside.
What's your favourite meal to prepare with your family?
Pizza Dough (makes 4 bases)
Ingredients:
•15g dried yeast
•20g caster sugar
•20g salt
•250g lukewarm water
•1 tbsp olive oil
•425g (approx 3 cups) bakers grade plain flour
Method:
For the pizza base, combine yeast, sugar, salt, water and oil in a bowl, whisk to combine. Cover and set aside for 10 minutes until bubbles start to appear on surface. Transfer to a large bowl, add the flour and bring together in the bowl with your hands.
Turn onto a lightly floured surface and knead until smooth and elastic. Place into a bowl, cover and stand in a warm place until doubles in size.
Place pizza stone into the oven and preheat oven and stone to 250 degrees celsius fan forced for about 30 minutes.
Knock the dough down. Using 180g (about one-quarter) dough for 1 pizza, knead on a floured surface until smooth. Roll out until 5mm thick. Place dough onto the very hot pizza stone. Spoon over about 2 tbs pizza sauce then sprinkle with toppings of your choice.
Cook 6-8 minutes or until base is golden and crisp.