12 Days of Christmas: Cranberry White Chocolate Bites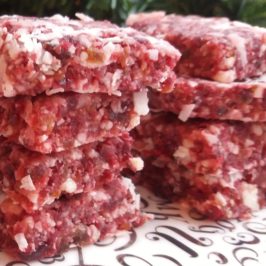 Recipe type:
Sweet Treat, GF, raw
2 cups dried cranberries
½ cup dried dates
finely grated zest and juice of 1 lime (approx 1 T juice)
1 cup dessicated coconut plus 4 T for sprinkling
100g good quality white chocolate, roughly chopped
Line a small plastic container (like a takeaway container, measuring around 15cm x 20cm) with plastic wrap, leaving some overhanging the sides. Sprinkle with two tablespoons of the coconut and set aside.
Put the cranberries, dates, lime zest and juice, one cup of coconut, and the white chocolate in a food processor and blitz until it forms a crumbly paste.
Firmly press this mixture into the lined container, using the bottom of a glass to get it nice and even. Sprinkle the remaining two tablespoons of coconut on top. Cover tightly and refrigerate for at least 30 minutes, then cut into small squares. Store in an airtight container in the fridge.
Recipe by
dulcet devotion
at http://dulcetdevotion.com/2016/12/22/12-days-of-christmas-cranberry-white-chocolate-bites/