Are you sick of turkey yet? Our family has "the big turkey dinner" on New Year's Day, rather than Christmas Day, so we're still in the throes of turkey dinnerdom.
We love turkey in our family and because we only have turkey twice or thrice each year, it always feels like a special treat that we like to extend for as long as possible with leftovers like turkey pot pie, curry quinoa turkey salad, and turkey noodle casserole.
Turkey à la King, easy, delicious and not all that sophisticated, is always on the menu post holidays. Normally we eat it on crispy buttery wheat toast, but this time, I took things up a notch.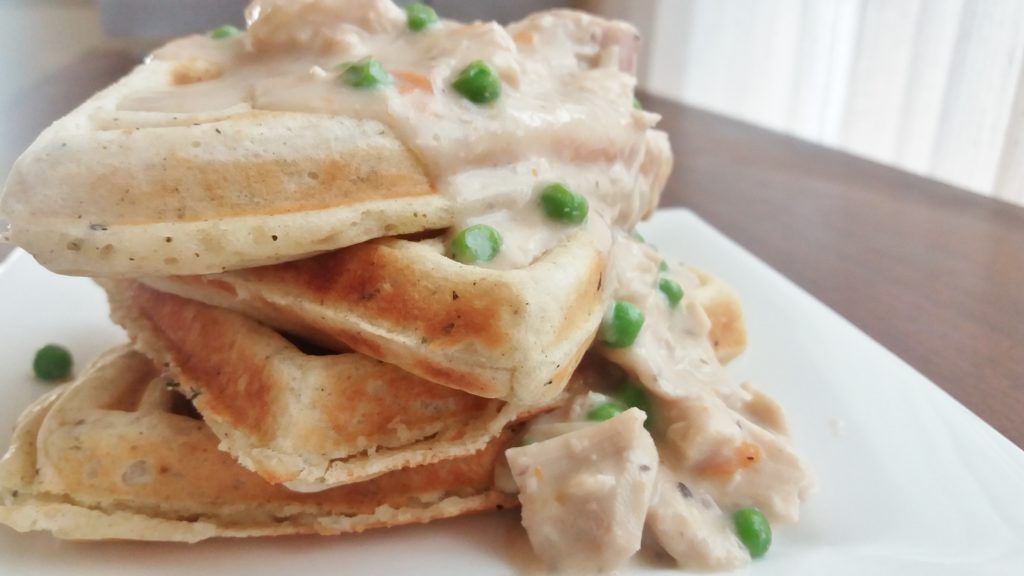 I received a waffle maker for Christmas this year (winning!) and I've been thinking of all the ways I can use it. Well necessity is the mother of invention in this case. We had Turkey à la King on the menu but were out of bread, and the temperature plummeted. I could have gone out for bread, but why when I can make waffles instead!
I love, love, love the stuffing that comes with turkey dinner and often chunks of it end up in the Turkey à la King as a special treat. But this time around I wanted to re-create the flavour of stuffing in the waffles.
So that's just what I did.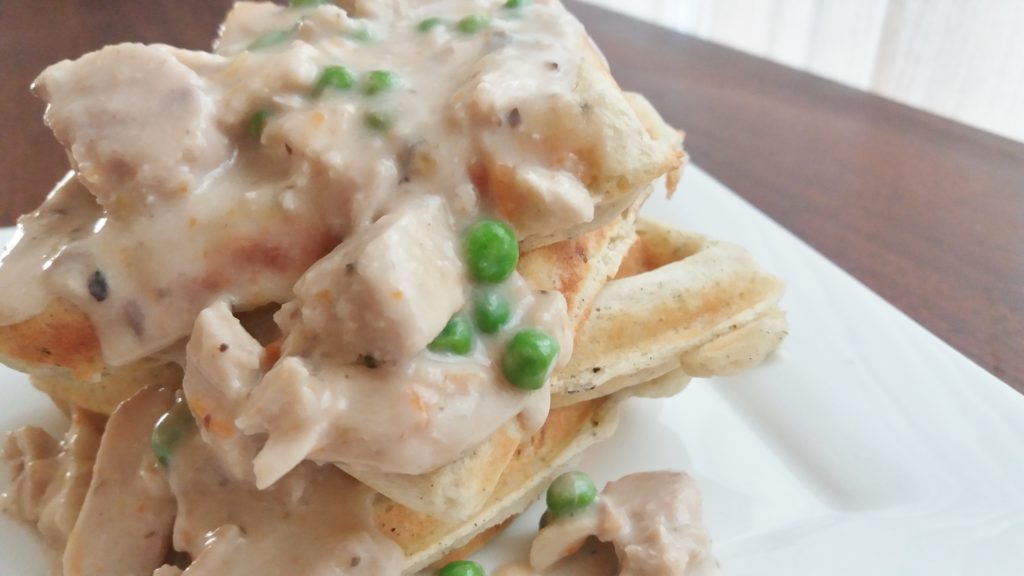 Loading the turkey onto fluffy, savoury waffles was a revelation. They took much loved but humble leftovers to high class status. Rich and creamy, with turkey's signature strong flavour and sweet pops of green peas, you could absolutely serve this as a seriously special meal.
Enjoy!
Mel xo
Turkey à la King waffles
Recipe type:
Dinner (leftovers)
Ingredients
Waffles
1 cups all-purpose flour
1 tablespoons sugar
½ tablespoon baking powder
½ teaspoon salt
¼ tsp each sage, thyme and black pepper
1 cup milk
3 tablespoons vegetable oil
1 large egg
Turkey mixture
1 can cream of mushroom soup
milk to taste (approx ¼ to ½ can)
leftover turkey, chopped
leftover stuffing and veggies, as desired
¼-1/2 cup frozen peas
Instructions
Waffles
Place ingredients in a large mixing bowl and combine until well blended and smooth. Let batter sit 5 minutes before using.
If you don't have a waffle iron, you can use a griddle pan on the stovetop.
Turkey mixture
Add soup and milk to a small saucepan and stir until you get a smooth, sauce consistency
Add turkey and veggies and season to taste
Heat over medium heat until bubbling.
Serve.