Welcome to day nine of 12 Days of Christmas!
Today's recipe comes all the way from Wellington, New Zealand, where Christmas is celebrated on the beach, usually with a nice cold lunch or barbeque. Wouldn't that be nice right now?
Jilly, my friend and partner in cheese scone crime, sent this recipe to me suggesting I feature it on the blog after she won her Christmas bake off with it.
This dessert, for me, epitomizes New Zealand and the types of treats they love to make and eat – Tangy, sweet, with something a little bit unexpected.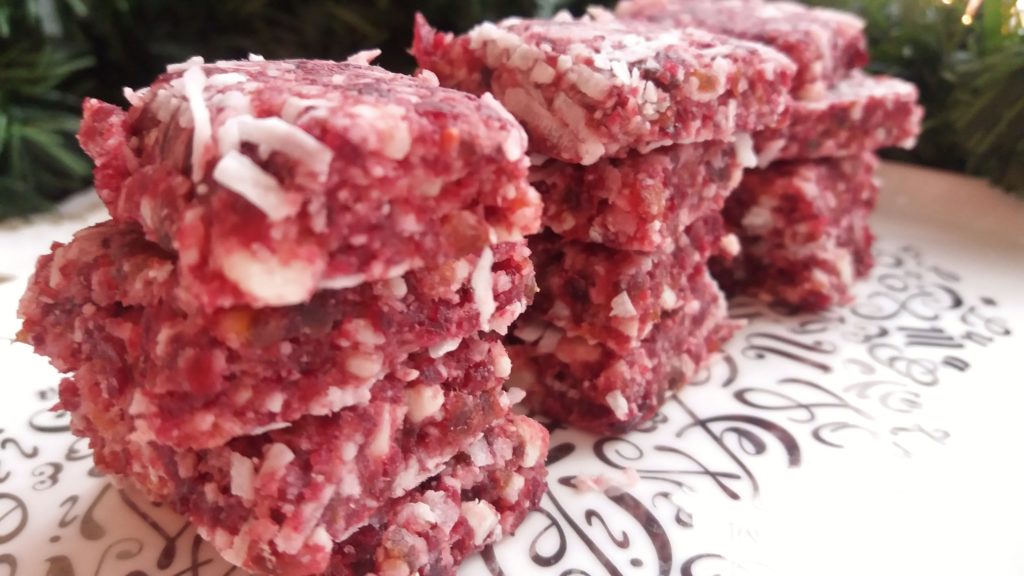 What I've found in the years I spent down under is that Kiwis love slices – what we here in North America might refer to as bars or squares – with the likes of ginger crunch, date squares and lolly cake (I'll make that someday soon) gracing the shelves of most of their cafes. They also love their desserts impossibly sweet, which quickly explained why they offer you yogurt or whipped cream (unsweetened) on the side of any dessert you order.
These Cranberry White Chocolate Bites, with their coconut and lime juice are at once sweet and decadent, but also tart and tropical. All round they're the perfect change-up from the heavy, rich fare we're more accustomed to on this side of the equator and probably the perfect end to that summer barbeque on the beach (should you be so lucky).
These treats may not look like your cup of tea, but I highly recommend you give them a try. They offer all the gorgeous flavours any white chocolate and cranberry dessert would, but without the pastry or extra bits and pieces that complicate things.
And once again, like yesterday's recipe, these too are gluten free (bonus points!).
Please give them a whirl and promise me you'll conjure up images of New Zealand while you're at it. If you have any trouble with that, please get in touch and I can tell you all about life down under.
Merry almost Christmas (just three more sleeps!) and be sure to check back for more 12 Days of Christmas tomorrow.
Mel xo

12 Days of Christmas: Cranberry White Chocolate Bites
Recipe by Lucy Corry (Stuff.co.nz)
Author: Melanie
Recipe type: Sweet Treat, GF, raw
Cuisine: New Zealand
Serves: 32 bars
Ingredients
2 cups dried cranberries
½ cup dried dates
finely grated zest and juice of 1 lime (approx 1 T juice)
1 cup dessicated coconut plus 4 T for sprinkling
100g good quality white chocolate, roughly chopped
Instructions
Line a small plastic container (like a takeaway container, measuring around 15cm x 20cm) with plastic wrap, leaving some overhanging the sides. Sprinkle with two tablespoons of the coconut and set aside.
Put the cranberries, dates, lime zest and juice, one cup of coconut, and the white chocolate in a food processor and blitz until it forms a crumbly paste.
Firmly press this mixture into the lined container, using the bottom of a glass to get it nice and even. Sprinkle the remaining two tablespoons of coconut on top. Cover tightly and refrigerate for at least 30 minutes, then cut into small squares. Store in an airtight container in the fridge.