We're half way through 12 Days of Christmas with no signs of stopping!
This year I feel like I've been pretty organized with my Christmas preparations, but I still get stressed out this time of year, worried I've forgotten something, or someone! or just wishing I had more time to spend time with family and friends instead of running around the mall like a crazy person.
It doesn't matter how early I begin my planning, this time of year is always more stressful than I expect it to be so I'm trying really hard to just accept that it's going to feel a bit full on and that I should make the most of the spark in the air and enjoy myself more.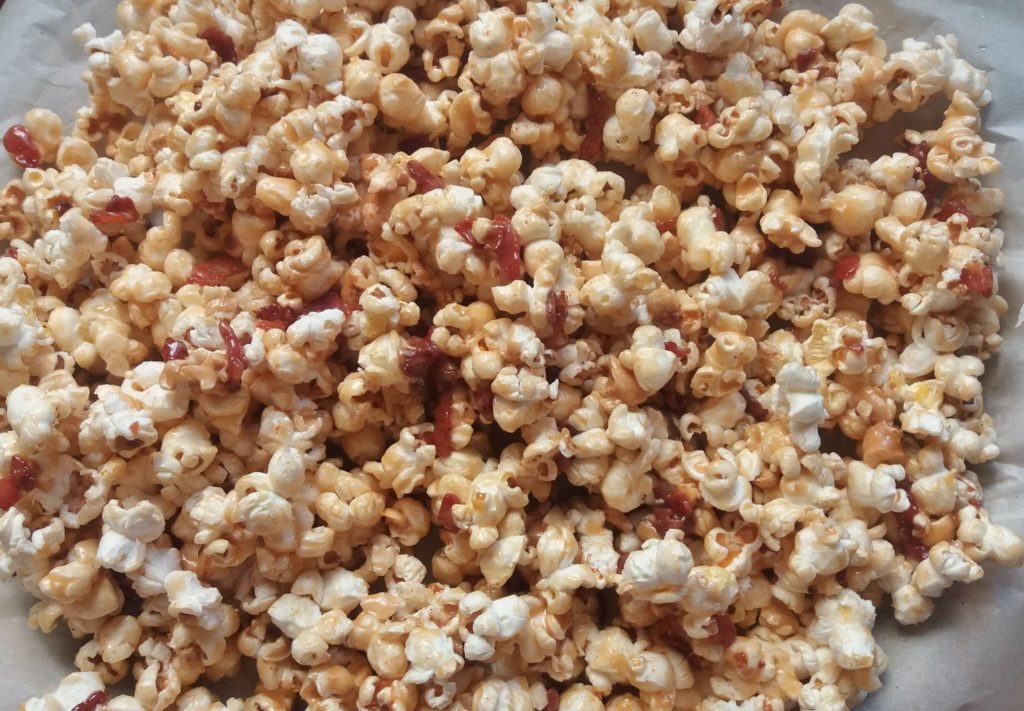 Speaking of enjoyment, this treat is one of my favourites – quick to put together, special enough to impress your friends and most importantly, it's got the whole salty/sweet combo that I go ape for. It's like a party in your mouth!
You know what else it's got going for it?
It fits perfectly into your purse to nibble on so you can keep your strength up for that marathon day of shopping!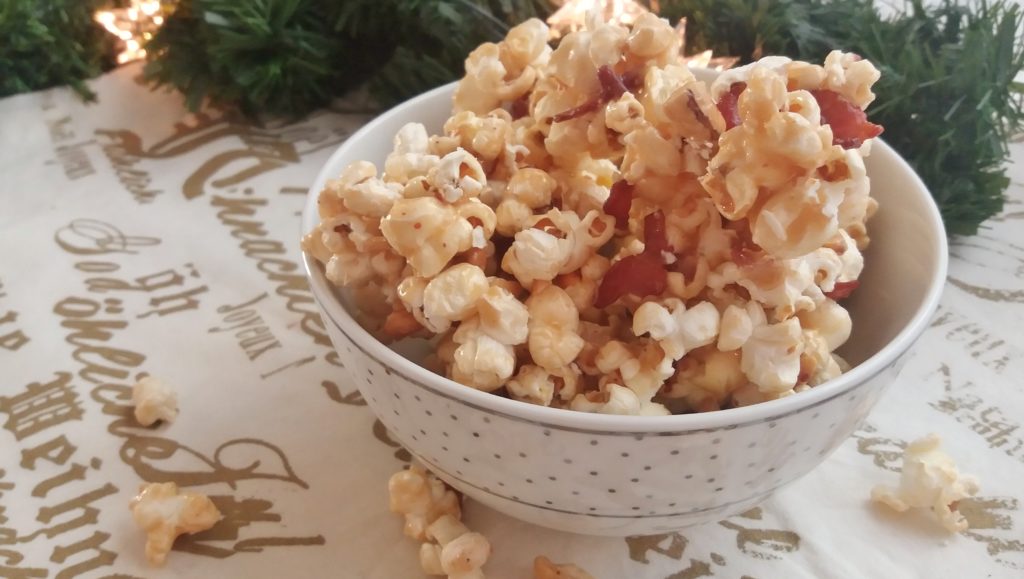 And if shopping's not your bag (or you've already finished it all for the year, good on you!) how about a sneaky snack for a trip to the movies, or to serve your friends when they come over to binge watch Netflix?
Grab that salty bacon, your favourite nuts and other bits and let's get crackin'.
Recipe inspired by Donna Hay.

12 Days of Christmas: Bacon Cashew Caramel Popcorn
Recipe inspired by Donna Hay
Recipe type:
Salty/sweet shopping snack
Ingredients
1½ tablespoon vegetable oil
1 cup finely chopped bacon
½ cup popcorn kernels
40g unsalted butter
¼ cup honey
¼ cup brown sugar
⅓ cup caster sugar
½ cup unsalted cashews, toasted and roughly chopped
1 teaspoon baking soda
sea salt flakes
pinch of cayenne
Instructions
Heat 2 teaspoons of the oil in a large pot over medium high heat. Add the bacon and cook, stirring, for about 5 minutes, until golden and crispy. Drain on paper towel and set aside.
Remove excess bacon grease and grab a tight fitting lid.
Put the pan back on the heat. Reduce the heat to medium and add the remaining oil and add the popcorn kernels and cover with the lid. Cook, swirling over the heat and holding the lid shut, until the corn stops popping.
Transfer the popcorn to a large bowl. Add the cashews and bacon
Place the butter, honey and both sugars in a small saucepan over low heat and cook until the butter has melted.
Increase the heat to medium and boil without stirring for about 3 minutes or until golden and thickened.
Remove from the heat, add the baking soda and stir to combine. Working quickly, pour the caramel over the popcorn and mix to combine. Spoon onto a baking tray lined with baking paper and sprinkle with sea salt and cayenne. Leave for a few minutes to set.
Try not to eat it all in one sitting!
See you back here tomorrow for day seven of 12 Days of Christmas!
Mel xo