Be the first to taste Kraft's new online community!

I am thrilled to partner with Kraft and share with you their new online community for food lovers, First Taste.
Join me on First Taste so we can share food ideas, try fun culinary challenges and take advantage of exclusive offers and savings. You can earn points for the culinary challenges you undertake and redeem your points for rewards along the way. Search for me, user name dulcetdevotion, under the Friends tab on the right-hand side of the page and let's get together to talk about food and share our experiences (I love my social media)!
It's a fun place to search for and share recipes, lend tips and tricks you've learned in the kitchen, and much much more. It's also the perfect place to keep track of all your favourite recipes, and to meet fellow food lovers like you and me.
To join the community, sign up here. Don't forget to add me as a friend!
Joining another social network not your thing? Do you love quick and easy meal solutions (who doesn't!) for you and your family? Sign up for Kraft Recipes By Email!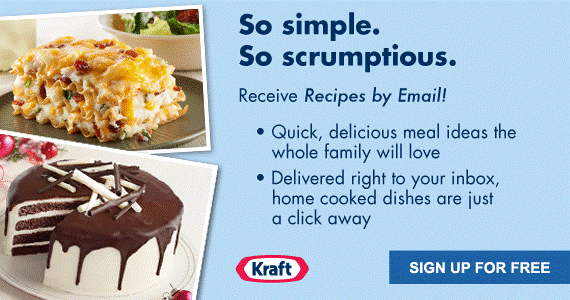 You'll receive great food ideas plus special offers and tips. From desserts to dinners and everything in between, Recipes By Email delivers delicious to your inbox each week.
Register today!
Dear Readers: I've been busy travelling around Australia eating my little heart out and I have so many stories to share! Posts about my visits to Sydney and Melbourne are coming very soon…