Dreams can be funny. They can be huge, over-the-top notions of how life could be, or strange stories that melt away as you rub the sleep from your eyes. Sometimes you've been dreaming a dream for so long, you can hardly recall how it all began. It's been with you for so long, it becomes a part of you.
Ever since I first spent a year working and playing in Australia, I've dreamed of returning. I've been lucky enough to go back a couple of times for holidays and special occasions (a birth, a wedding) and every time has been magical, yet shortlived.
Like the blurry details of my dream's birth, the details of how I find myself here, possessions in storage and plane ticket purchased are just as vague. But I will not look this gift horse in the mouth. However I got here, all I can do is smile, be massively grateful, and remember to pack my favourite recipes.
I'm going to Australia and I'm taking my blog, and you, on the road!
This is an extremely exciting, scary time, which surprises me a bit, since this is by no means my first big trip. But just because you've done something before, doesn't mean you can't be afraid. Think public speaking. Or flying. Or trying a new recipe.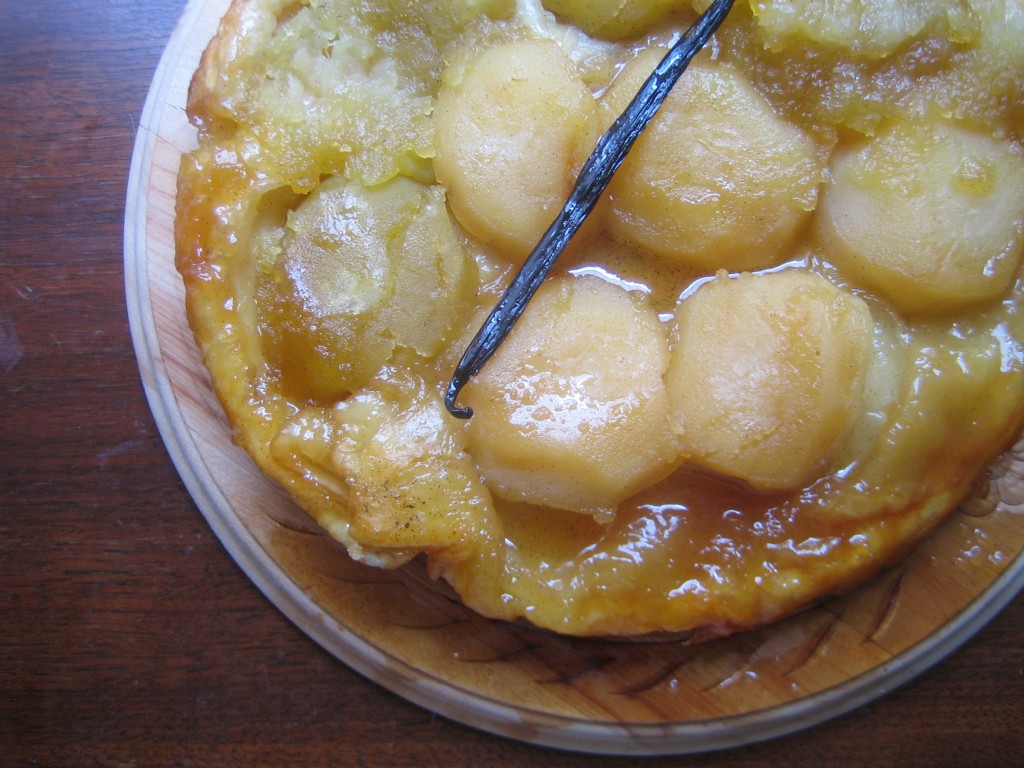 Did you like that segue? I felt that this big news deserved a celebration, and also called for taking a bit of a risk in the kitchen. I've never tried tarte tatin, and I didn't really know much about it. It seemed like the perfect kitchen project to commemorate my big move.
Being new to this upside down apple pie, I figured I'd take my direction from the master of quick, yet delicious recipes–Jamie Oliver.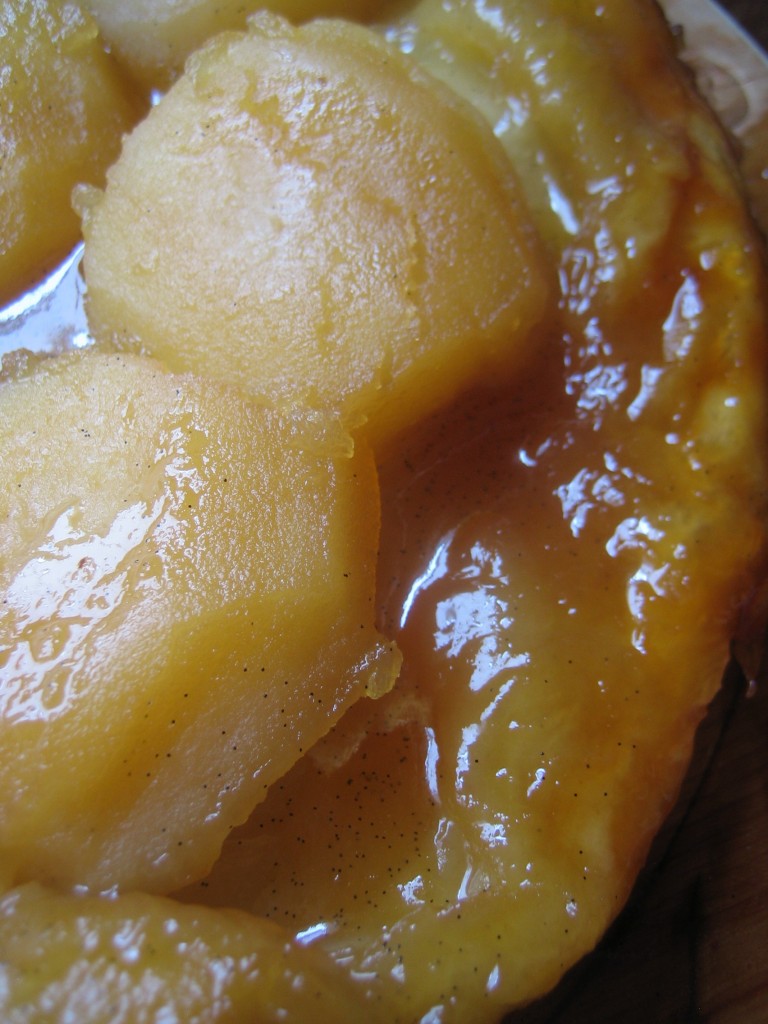 I could have gone straight to the source, Julia Child, but I feared the detailed steps would just be too much for me after two straight weekends of moving house and everything else that has been going on. I decided to keep things simple and my choice was well rewarded.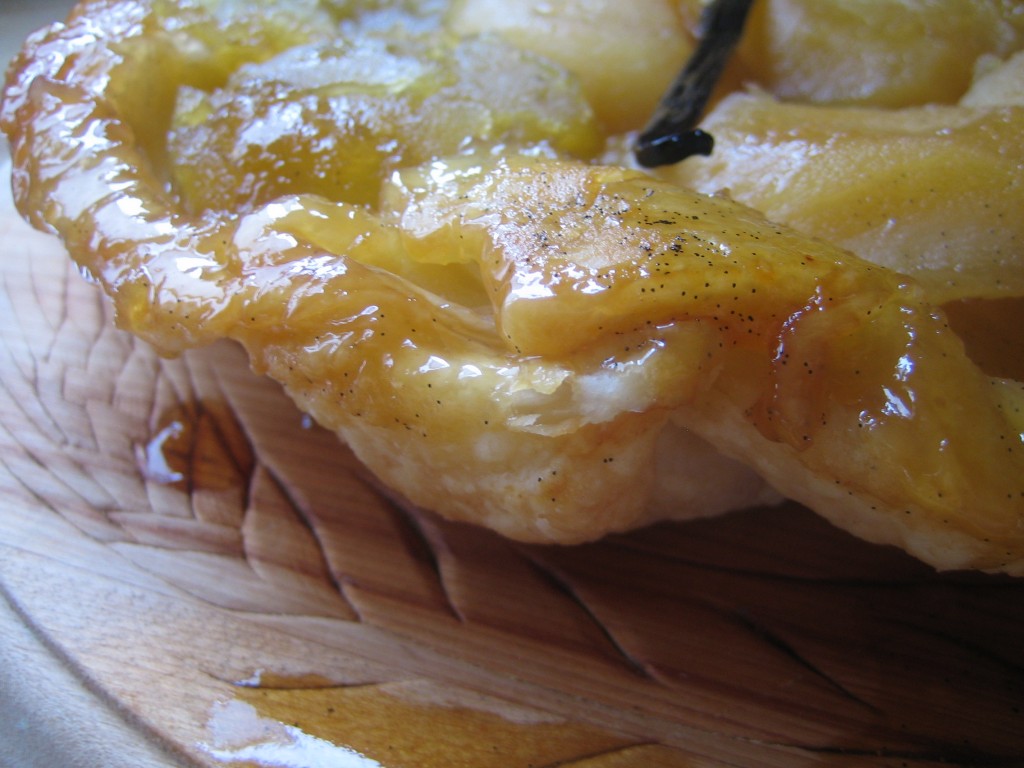 The first plus? Puff pastry. I have never made homemade pastry. Wait, I have. In Food Science class in University. But not since then. It scares me. I realize this is an unrealistic fear. But it freaks me out. Besides, Mum makes amazing pastry, so for now, we'll leave that to her. But it will remain on my baking To Do list. One thing at a time…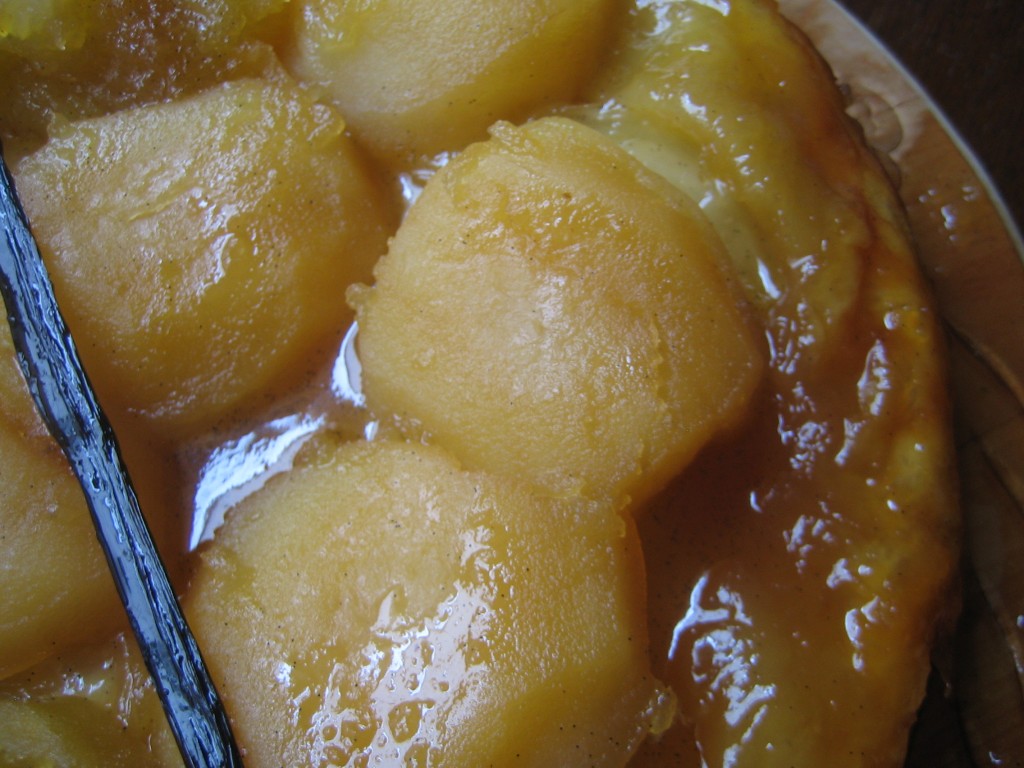 So puff pastry rolled out and set aside, I prepared a simple caramel sauce with sugar, vanilla, and rum in a frying pan. Within 5 minutes it had turned a lovely golden colour, and in went the peeled, cored apples.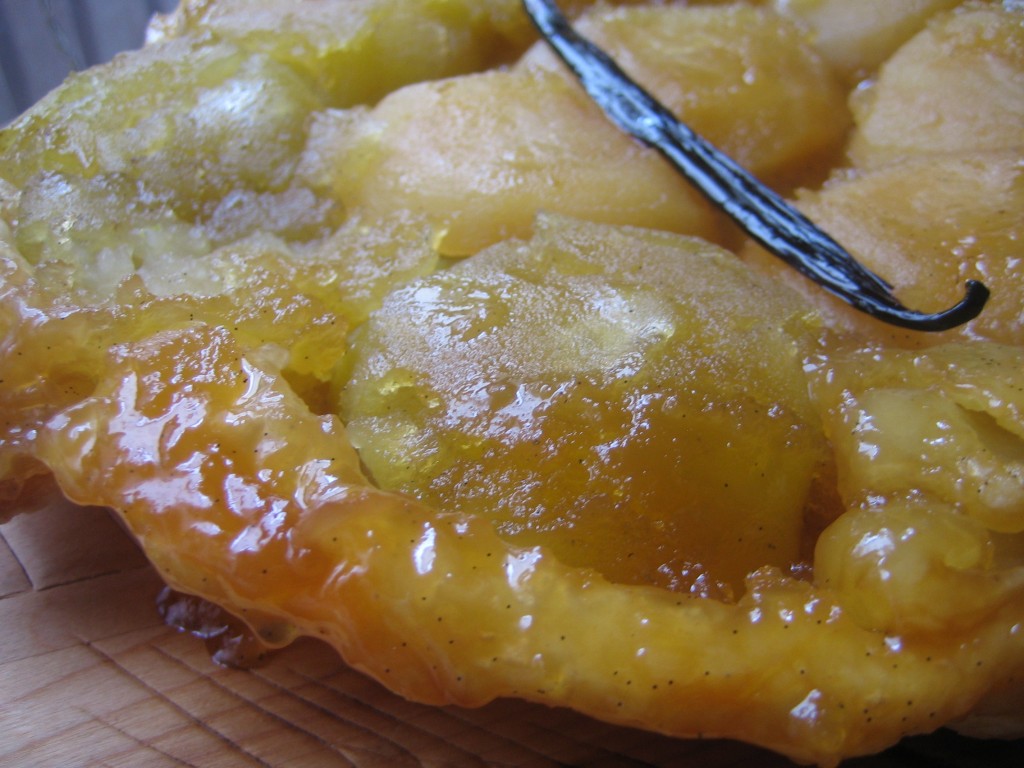 After another 5 minutes, the apples were delightfully soft and the hot caramel had further deepened in colour. It was time to add a bit of butter, then lay the pastry over the top and carefully tuck in the edges with a wooden spoon.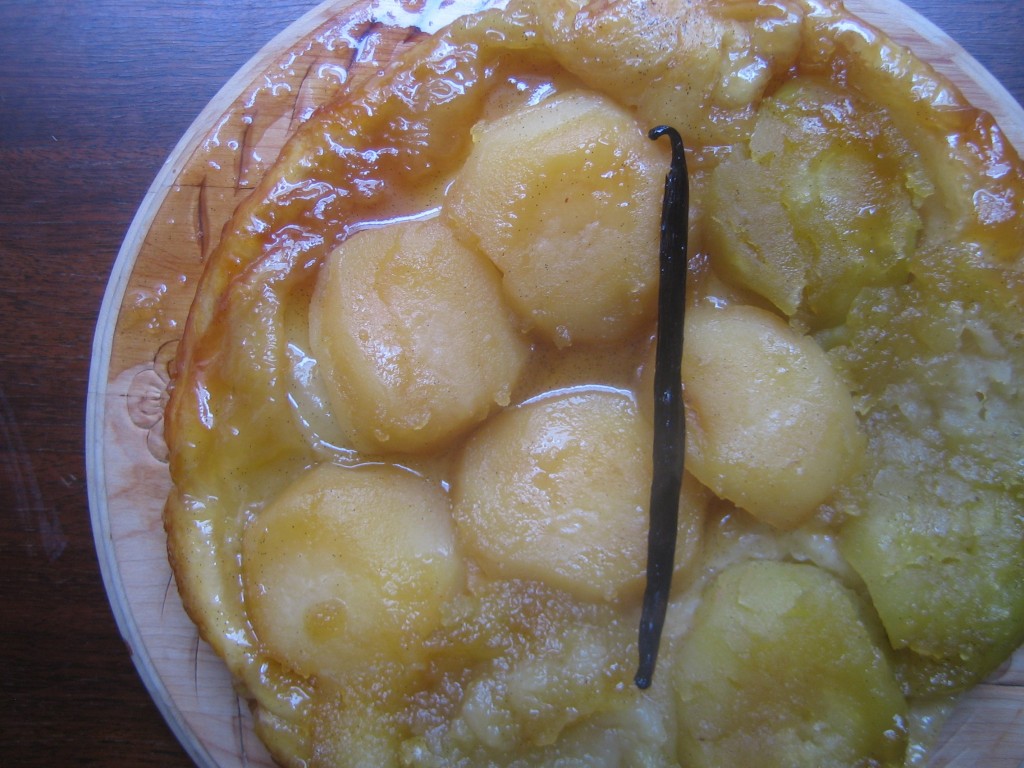 The final step was to place the (oven-proof) frying pan in the oven for 30 minutes. Cue warm, vanilla-apple and pastry aromas wafting through the house. Just when we couldn't take it anymore, the timer beeped and out it came. It flipped easily out of the pan and onto the serving board. Served with vanilla ice cream it was a delicious apple dessert that was simple as pie, ha!
What's your dream? What have you always wanted to try but haven't quite plucked up the courage? Or maybe you need our help to make it happen. I'd love to hear about YOUR dreams. Write them down and make them real, below in the comments. In the meantime, enjoy some apple pie!

Apple Tarte Tatin
Ingredients
plain flour, for dusting
500g puff pastry
5 small eating apples (approximately 800g), a mixture of sweet and acidic varieties
100g golden caster sugar
100ml Calvados--I used rum
1 vanilla pod, halved lengthways, seeds scraped out
50g butter, cubed
Instructions
Preheat your oven to 190˚C/375˚F/gas 5. Dust a clean surface and a rolling pin with flour and roll out your puff pastry until it's just over 0.5cm thick. This will be enough to cover the ovenproof frying pan you'll be cooking the tarte Tatin in, leaving about 5cm extra around the edge. Put the pastry to one side for now. Peel your apples, then halve them horizontally and use a teaspoon to get rid of the seeds and core.
Put the ovenproof pan on a medium heat and add the sugar, Calvados, vanilla seeds and pod. Let the sugar dissolve and cook until the mixture forms a light caramel. Just please remember never ever to touch or taste hot caramel, as it can burn really badly.
Once the caramel looks and smells delicious – it should be a lovely chestnut brown – add your halved apples. Carefully stir everything in the pan and cook for about 5 minutes or until the apples start to soften and you get a toffee apple vibe happening. Add the cubed butter, then lay the pastry over the top. Quickly and carefully tuck the pastry down right into the edges – it's best to use a wooden spoon so you don't touch the caramel.
Bake the tarte Tatin for about 25 to 30 minutes, or until golden, with crispy caramelly pieces bubbling up from under the edges. Take it out of the oven. To make it look like a tarte Tatin you need to turn it out, which isn't hard – but you do need to be careful with that hot caramel. So get a serving plate or board larger than your pan and put an oven glove on to protect the arm holding the board. Put the board or plate on top of the pan, then quickly, carefully and confidently turn it out (remember you can go to www.jamieoliver.com/how-to and see a video of how to do this safely). Put it to one side for a few minutes, so the caramel can cool down, then divide it up and serve with a spoonful of crème fraîche or ice cream.
*This recipe would be totally doable on a weeknight or when guests were suddenly upon your door. The only thing holding you back? Store-bought puff pastry needs at least 2 hours of defrosting time on the counter or overnight in the fridge. But if you've got it on hand, and with a little preparation, you can enjoy this just about anytime.